Filters


Banks in India, and globally, are building up a healthy appetite for clean energy financing, announcing commitments for larger projects in a fast expanding industry.
Citig...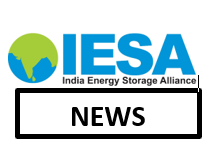 Imergy energy storage systems will help SunEdison bring reliable electricity to millions of people in rural India as part of its goal to help 20 million people by 2020

SunEdison, Inc. (NYSE:  Read More

"This strategic alliance allows us to combine our complementary capabilities and will enable us to bring optimized solutions to our customers." Read More

Installed capacity of energy storage is expected to more than triple over the next five years, according to a new report. 
The energy storage market is poised for substantial growth over the next five years, with installed capacity this year expected ...

he worldwide capacity of distributed energy storage systems is expected to increase nearly 10-fold over the next 3 years, according to a new report from Navigant Research, which analyzed the global market for distributed energy storage systems through 2024.
The primary...

In the first step towards implementation of the Narendra Modi government's plan to build 100 smart cities, the Confederation of Indian Industry on Tuesday inked pacts with global technology firms 
Siemens...

Andre Borschberg touches down in Varanasi - LEDs light up the front surface of the wings

General Electric has refined its strategy at its Energy Storage business.
Four years after GE opened the $170 million Durathon battery manufacturing ...