About the initiative:
IESA's Startup & Innovation initiative has been launched with a view to work with incubators, accelerators, Government institutes and organizations who are focused on upscaling and supporting startups, entrepreneurs, R&D institutions, and early-stage companies with their next generation storage, EV & microgrid innovations and technologies.
Focus Areas:
Microgrids, New Energy and Sustainability, Smart Grids and Energy Storage.
Objectives:
To inculcate entrepreneurship and creation of enterprises on knowledge-based innovation specially focused on electricity, new and renewable energy and environmental sustainability
To catalyze growth of smart grid, microgrid and energy storage technologies driven enterprises
To link potential incubators with knowledge strength, scientific guidance and resources and provide them immense business, networking and commercial opportunities.
Be a part of the eco-system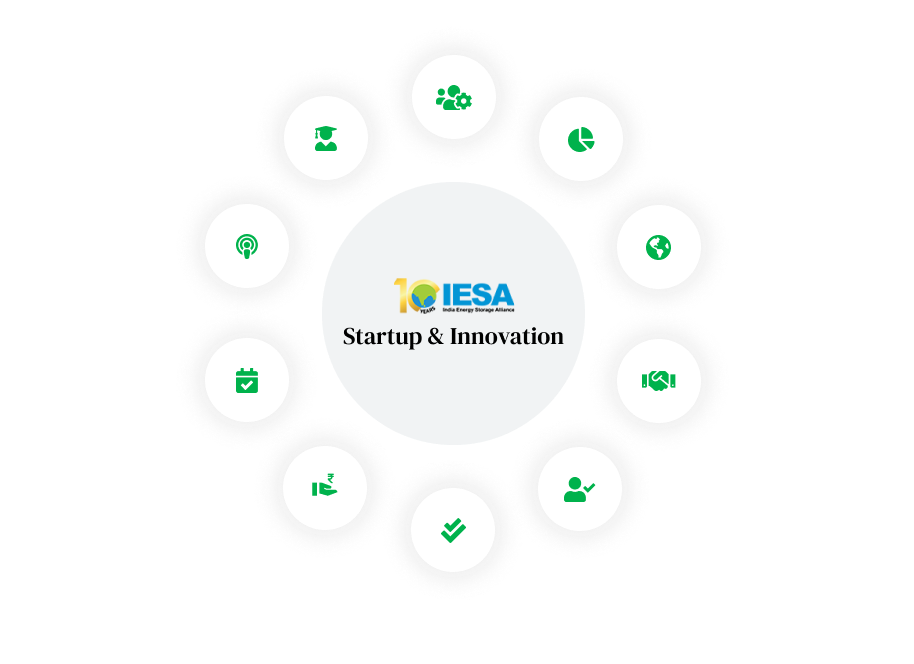 Connecting with Industry stakeholders (suppliers and buyers)

Invitation to be part of IESA Innovation Pavilion during IESA flagship events

Invitation to join IESA and its activities

Invitation to be part of annual Global Start-Up Outreach Program and Pitch Competition

Invitation to attend Government meetings & roundtables

Support to apply for Govt. funding opportunities

Connect with Invest India, AGNII, Start-Up India, MSH and other state government investment agencies

Invitation to have one on one meeting with potential investors

Support in preparation of Pitch deck

Mentorship by Industry experts/veterans

Invitation to apply for International and National grants
Start-up and Innovations Podcast
Dr. N. Kalaiselvi- Director General CSIR, India's largest research organization
Prof Jhunjhunwala: Building eco-system for budding clean-tech entrepreneurs
UNIDO's FLCTD - Promoting Innovation & Deployment of Low Carbon Technologies
EVangelise Innovation Challenge by iCreate
Unique opportunity for Energy Storage Innovators to receive $50,000 UNIDO grant for beta deployments in India
Kick starting deployment of innovative ESS technologies in India with UNIDO's Innovation Challenge
Story of Jeevtronics start-up: Disruptive Cardiac Innovation
Become a part of Startup Eco-system