Developing a holistic ecosystem for the supply chain of batteries in India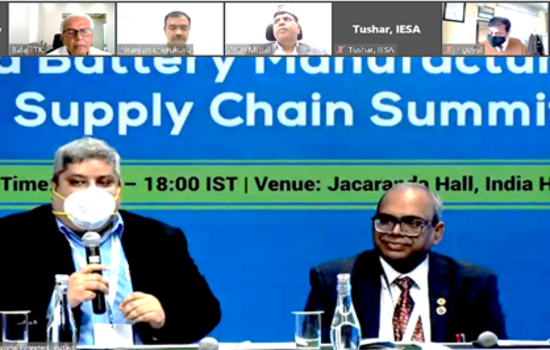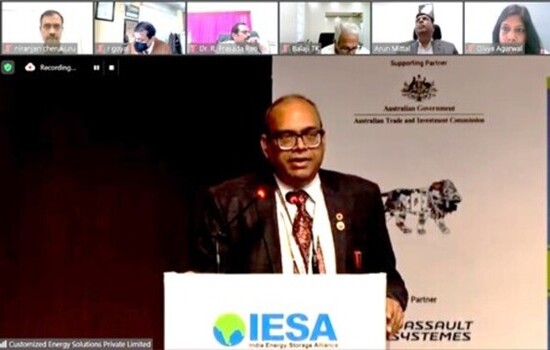 India Battery Manufacturing & Supply Chain Council (IBMSCC) was launched on Dec. 9, 2021, to work on the complete development of the battery supply chain needed to support upcoming giga factories in India. 
Launched at the India Battery Manufacturing & Supply Chain Summit held in Delhi, the event was attended by close to 150 eminent members including industry leaders, think tanks, scholars, and policymakers. The discussions at the summit ranged from a talk on ACC PLI Program, supply chain requirement for advanced battery Gigafactories in India, battery manufacturing supply chain: raw materials processing, equipment, and manufacturing process, and new research & innovation in energy storage, recycling, and urban mining.
Women Outreach in Cleantech Sector- Gauri Singh-IRENA
India's first geared electric motorbike
DST-IESA Industry Research & Development Post-Doctoral Fellowship Programme
Dr. N. Kalaiselvi- Director General CSIR, India's largest research organization
EOS Zinc Hybrid Battery Technology
Renewable Energy Roadmap for C&I consumers
Prof Jhunjhunwala: Building eco-system for budding clean-tech entrepreneurs
India Energy Storage Week 2022
Supplying Raw Material for Global Lithium-Ion Battery Market
Addressing EV fires & safety challenges in India
#WomenLeaders in Energy: Archana Bhatnagar
UNIDO's FLCTD - Promoting Innovation & Deployment of Low Carbon Technologies
Importance of Safety Standards for Energy Storage Systems
Fluence: Supporting Global Energy Transition with Excellence
2021: Indian energy storage industry's big leap forward
Importance of Value Chain in setting up Battery Gigafactory
Building the largest Gigafactory of Europe-Italvolt-Lars Carlstorm (part2)
Building the largest Gigafactory of Europe-Italvolt-Lars Carlstorm (part1)
DISCOM's perspective on BESS projects in India
DHI invites 50 GWh bids for ACC Battery Manufacturing in India
India kickstarts GWh scale energy storage procurement
The Massachusetts Clean Peak Energy Standard
EVangelise Innovation Challenge by iCreate
Conversation with Mr. Siddharth Mayur, MD-h2e Power Systems
Insights from Industry Veteran Dr Prabhakar Patil for Indian Gigafactory aspirants
NavAlt- Transforming marine transport for greener tomorrow
Setting up Giga Factories in India: Vision! Strategy! Execution!
Finally, India enters race for Giga factories with ACC Battery PLI scheme
A healthy planet is not an option — it is a necessity
Nexcharge- Early mover of lithium battery manufacturing in India
Celebrating women's contribution in Clean Energy Transition
Is this the right time to scale up eMobility in India?
Okaya Power: Emerging Leader in EV Charing Infrastructure in India
Toyota's journey from Hybrids to Zero Emission Vehicles
2020 learnings: Embrace humanity & sustainability
Unique opportunity for Energy Storage Innovators to receive $50,000 UNIDO grant for beta deployments in India
India's step towards becoming a Global manufacturing hub of battery technology
Applied Materials: driving innovation in every part of our life
Kick starting deployment of innovative ESS technologies in India with UNIDO's Innovation Challenge
What to expect from World Energy Storage Day Global conference?
Zero emission Aviation by ZeroAvia with hydrogen fuelled electric flights
Recycling the critical materials in lithium batteries by Li-Cycle Corporation
Insights from building GE's global research center in India
Success story of building a strong establishment of Indian manufacturing setup: SWELECT
Experience of India's first inter city Electric Bus Operator
Clean Mobility during COVID-19
Story of Jeevtronics start-up: Disruptive Cardiac Innovation
Getting ready for a new paradigm in grid management in India
Role & Readiness of utilities during COVID-19
Dr Kale, Director CMET Interview on Center of Excellence
RIT Battery Prototyping Center -Dr Matthew Ganter Interview
Interview of Mr Awadhesh Kumar Jha, Vice President , Charge & Drive business, Fortum
Interview of Mr Sajid Mubashir, Scientist G, DST about new Applied R&D Program for eMobility
Review of developments from India's RE, EV & Energy Storage Market during 2019 by Dr Walawalkar
Interview of Mr Rakesh Malhotra, Founder of SAR group, LivGurad, Mentor & Investor
Interview of Mr James Trudeau, UL on Safety Standards of ESS
Kick starting India's ReUse & ReCycle initiative for advanced batteries.
Exicom's story: from leading power electronics solution provider to leading ESS provider
Interview with Mr Alan Greenshields, Chairman, Innolith on the occasion of World Energy Storage Day
Interaction with Dr.Satyajit Phadke on cutting edge technology for energy storage and EV
Conversation with Haresh Kamath, Sr Program Manager at Electric Power Research Institute, USA
Mr Jim Dehlson, a pioneer and world leader in wind power and renewable energy, shares his journey from Zond to Ecomerit technologies at Santa Barbara''
Conversation with John Wood (CEO Ecoult) & Pramod Kulkarni (Sr Consultant CES) at 29th annual conference of ESA in Phoenix''
Rahul Walawalkar shares his experience of Tesla Australia energy storage project
Neelima Jain on how EESL is enabling large scale adoption of emerging technologies (Rebroadcast)
Mohua Mukherjee on a new approach for measuring global energy access (Rebroadcast)
The paradox of electricity surplus co-existing with access deficit in India featuring Prayas Energy Group
Urj Moto: John Mathew shares the story of the electric two-wheeler startup
Dr Chetan Singh Solanki on empowering the local community through SoULS initiative
Manuj Khurana shares his views on the EV roll out plan and the role of Invest India in the space
Sunil Jain talks about India's first solar-wind hybrid project, HFE's future plans and his outlook on the sector
Applying AI to reduce power consumption: Saurabh Vij shares the story of Curie Labs
Awadhesh Kumar Jha discusses the challenges in setting up EV charging stations across Indian cities
Bitcoins and Blockchain: Shivkumar Kalyanaraman explains the concept and the possibilities
Deva Seetharam on how Dataglen's SAAS model and energy analytics is addressing the solar O&M issues
Indian cities to rollout electric buses: Nikhil Dhamankar shares details about this plan
Shivkumar Kalyanaraman explains the declining solar tariffs in India
India Shining: World's largest solar farm, International Solar Alliance and more by Girish Shivakumar
Future of Energy Storage: Chris Thompson talks about Microtron's Graphene Battery
Saurabh Rohilla discusses SIAM's white paper on Electric Vehicles and the recent developments in India
NITI Aayog's stakeholder consultation on India's Electric Vehicle roadmap
Measuring global energy access: A new approach
Did the budget fail to meet the expectations of Indian Clean-tech sector?
Blind men and an elephant: India's Electric Vehicle (EV) conundrum
Will Karnataka be the manufacturing hub for Electric Vehicles (EV) and energy storage in India?
Discussion on the Massachusetts State of Charge Report
EESL: Enabling large scale adoption of emerging technologies
Energy Storage India 2018
Renewable Energy (RE) project development in India, 2017: A year-end review
Clean-tech in India: 2017 Year in Review
Air Pollution woes in Delhi: Is EV an option?
Crowdfunding for energy projects : The bettervest way
Solar rooftop project development in India: The way forward
Global Entrepreneurship Summit in India: What to expect and more
Electric Vehicles in India: Discussion on FoR report and more
India's Electric Vehicle Vision (Rebroadcast)
Energy Access for All (Part 2)
Energy Access for All
Electricity spot market price trends in India
Karnataka Electric Vehicle and Energy Storage Policy
India's new electrification scheme: Saubhagya