Activities:
AtmaNirbhar Bharat - Energy Storage Manufacturing Roadmap for India, Roundtable Discussions to accelerate Advanced Energy Storage Manufacturing, supply chain & Recycling, Ecosystem. The roundtable was attended by 100+ key industry stakeholders. It was graced by some eminent dignitaries' like Mr. Suresh Prabhu, India's Sherpa to G20, G7, Member of Parliament, Mr. Satendra Singh, Joint Secretary, Ministry of Mines, NITI Aayog and numerous international partners graced the discussions. These discussions attempted to highlight the importance of domestic production, considering the risk of current global supply chain disruptions. Based on these discussions, a detailed report has been submitted to PMO and copied to Ministry of Power, Ministry of Heavy Industries, Minister of Micro, Small and Medium Enterprises and Niti Aayog.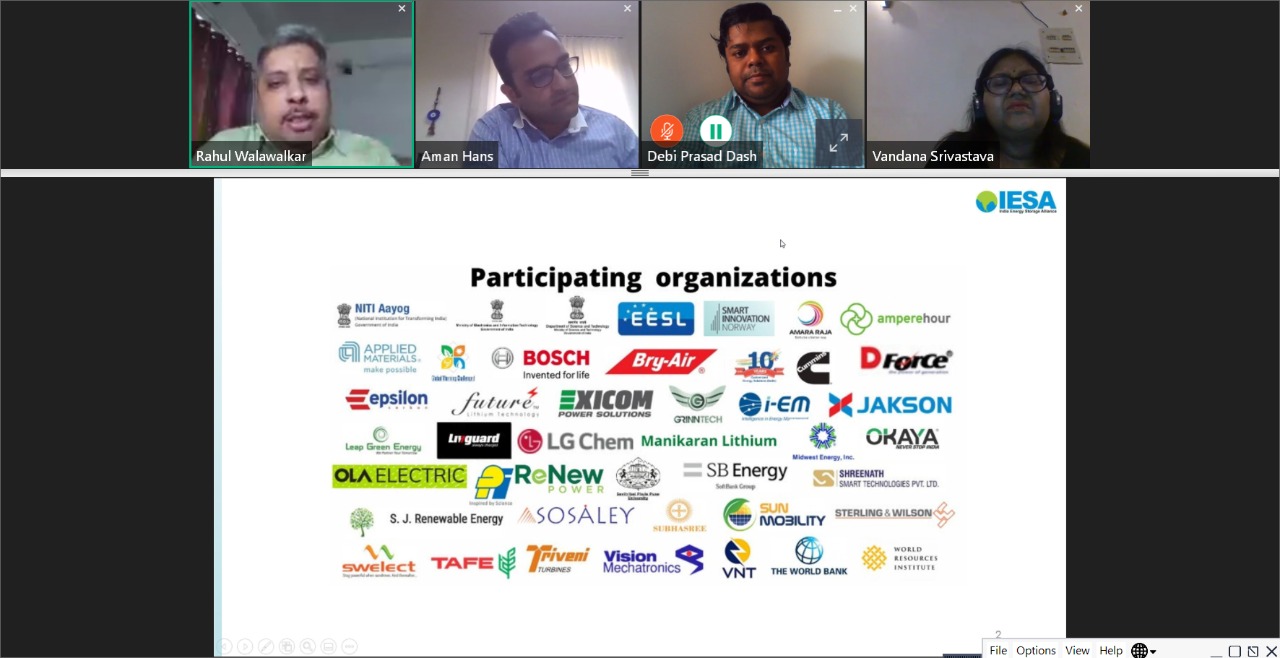 Roundtable 1:

(Wednesday, 15th July 2020): Advanced Energy Storage Manufacturing in India: Global Manufacturing Overview, India Business & Policy drivers, Investment opportunity, Technology selection, global partnerships, Tax and duties, Central and State Policy incentives

Roundtable 2:

(Wednesday, 29th July 2020): Supply chain for Advanced Energy Storage Manufacturing: Raw materials, speciality processed materials, manufacturing equipment, components

Roundtable 3:

(Wednesday, 12th August 2020): Urban Mining & Recycling Ecosystem to support Advanced Energy Storage Manufacturing in India- Battery handling and environmental rules, global best practices, recycling technology, recycling supply chain and enforcement of regulations

By collating information from industry players of member companies, IESA has submitted inputs on the discussion points for Advanced Battery Manufacturing in India in the month of May'2019. Since then in constant communication with Niti Aayog and other ministries/departments on the launch of the Mission. IESA wrote multiple letters in the year 2020 (3rd Mar'2020, 10th July 2020, 22nd Sept'2020, 6th November 2020) requesting to expediate the launch of the mission explaining with the consequences/threats due to delay in the launch and missing of Investment opportunities to other countries. Recent letter on 6th Nov was submitted with the support of Industry associations like Indian Electrical and Electronics Manufacturers Association (IEEMA), India Smart Grid Forum (ISGF), Electronic Industries Association of India (Elcina) and MAIT.
Recently organized an Open webinar on India's National Program for Advanced Cell Chemistry (ACC) Battery Storage Manufacturing under PLI Scheme, November 26, 2020. In this webinar Industry experts and government representatives shared & discuss the details about the program, application procedure, eligibility criteria and incentive details.
With the view to bolster the manufacturing capabilities of the country and enhance exports, the Union Cabinet today approved production-linked incentives (PLI) in 10 key sectors including Advanced Chemistry Cell (ACC) battery, under the Atmanirbhar Bharat vision. ACC battery has been approved a financial outlay of INR 18,100 crores. Automobiles and auto components have been approved INR 57,042 crores. IESA has put lot of efforts over past 2 years in generating interest amongst Technology Companies & Investors about setting up manufacturing in India. NITI Aayog has issued the draft Request for Proposal (RfP) documents for selection of private entities to set-up manufacturing facilities that produce Advance Chemistry Cells (ACC). IESA closely work with various government bodies to support the industry to make India as a global hub for manufacturing and adoption of energy storage & electric mobility technologies. To understand more details about this program, IESA has organized a webinar in Nov'2020 where in Niti Aaayog has joined along with Industry experts and government representatives and discussed the details about the program, application procedure, eligibility criteria and incentive details. Now we are gearing up our efforts with the support of our 120+ members & other stakeholders to achieve the vision set by your hon'ble self in ensuring India to be a global hub for advanced storage technologies. In line with this, we have planned series of activities to support the scheme and promote the Program in next coming few months which includes global webinars for clarifications related to application procedures, connecting central/state governments with potential investors, promoting market opportunities etc.