are able to provide specific and to-the-point information to a wide range of audience who are interested in learning about these new technologies. The review is prepared keeping in mind that the readers may be from very different backgrounds and we hope that the concepts and information presented will help all decisions makers from industry as well as from the government.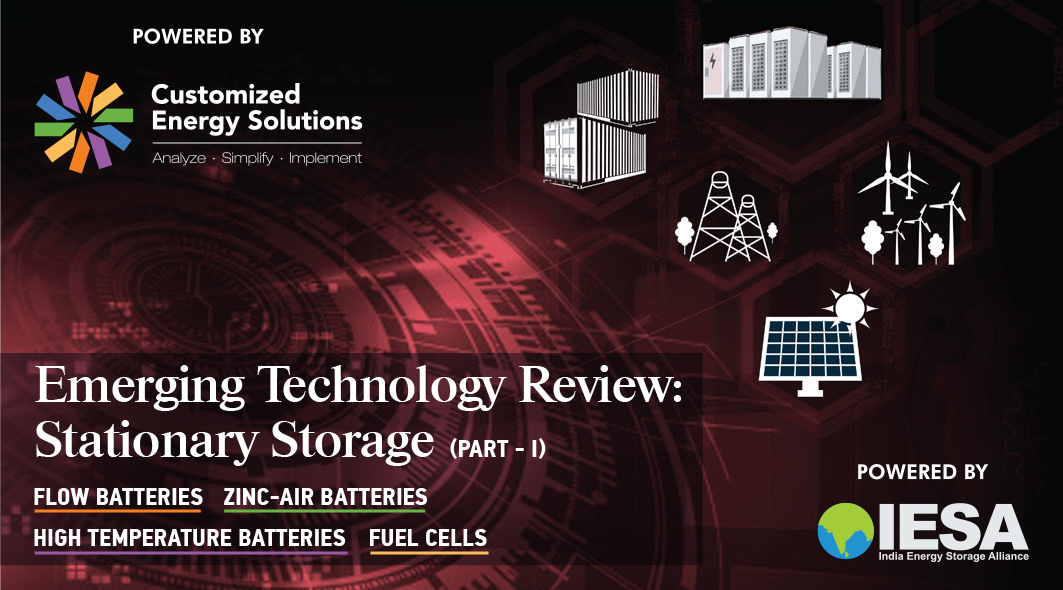 Table of Contents
Motivation and Objectives of this Technology Review
Executive Summary
A. Classification of Stationary Storage Applications
Long duration and short duration applications
Renewable backup, frequency regulation, solar and wind smoothing, UPS, microgrids
Application specific requirements of Energy Storage Technologies
B. Stationary Storage Technologies Part I: Flow Batteries
Existing and next generation chemistries
System design and Performance characteristics
Price breakdown of VRB systems: Vanadium requirement
Global deployments of Flow Batteries
Product specifications and application suitability
C. Stationary Storage Technologies Part II: High Temperature Batteries
Construction and design
Historical development and improvements
Performance characteristics and Applications
Company offerings and application case studies
D. Stationary Storage Technologies Part IV: Zn-air Batteries
Historical developments and improvements
System design and performance characteristics
Company offerings and applications
E. Stationary Storage Technologies Part V: Fuel Cells
Comparison of Fuel Cell Technologies
SOFC (Solid Oxide Fuel Cells)
PAFC (Phosphoric Acid Fuel Cells)
PEMFC (Hydrogen Fuel Cells)
PEM Electrolyzers: Green Hydrogen Production
Fuel cells vs. Conventional power generation
Key questions the report answers
Which technologies are suitable for stationary storage applications and what improvements can be expected in the next 3-5 years?
Which technologies are on the horizon and will be commercially manufactured and available soon?
How are these technologies superior in performance to existing storage solutions?
What are the performance characteristics of large scale storage technologies such as flow batteries, NAS and Zn-air batteries?
What are the recent developments in Fuel cell technologies and how do the different types of fuel cells differ in performance?