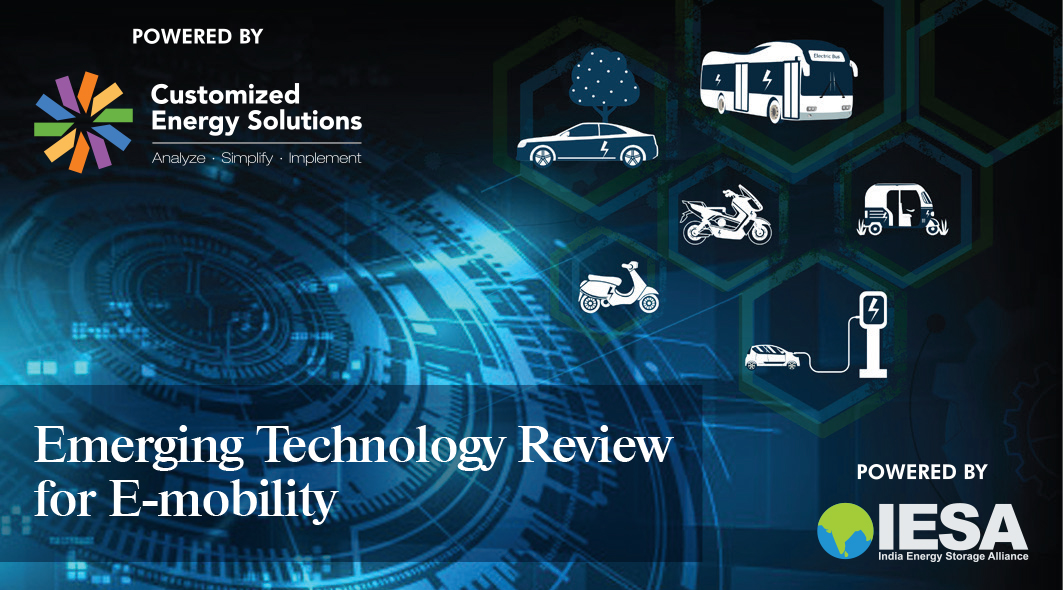 The world is undergoing an immense transition in one of the most key aspects governing our lives. It is in the generation, availability and use of energy which supports all dimensions of our existence. Food production, processing and delivery, infrastructure development, clothing industry, transportation, healthcare and any other activity crucial for our sustenance depends on energy. Over time we have become used to depending on fossil fuels for providing us this key supporting ingredient. It is this core enabler, which is undergoing transition.
This transition has been made possible, in part due to the development of advanced technologies for energy storage and conversion. In this series of 4 reports, we attempt to cover all the major technologies which are either currently commercially available or those which are in the late development stages and will be commercially manufactured at scale in the next 3-5 years. All technologies for energy storage and conversion are constantly evolving and improving in performance owing to the ongoing efforts of the global academic and industrial community.
In the current report which is the first in this series of reports, we cover all the technologies which are of interest for e-mobility applications. These applications can range from small personal transportation devices such as Segways and hoverboards to heavy duty vehicles such as trucks, trains and medium sized boats.
We wish that through this report we are able to provide specific and to-the-point information to a wide range of audience who are interested in learning about these new technologies. The review is prepared keeping in mind that the readers may be from very different backgrounds and we hope that the concepts and information presented will help all decisions makers from industry as well as from the government.
Table of Contents
Motivation and Objectives of this Technology Review
Executive Summary
Classification of Applications for Mobility

Electric vehicles (2W, 3W, 4W, Trucks and Buses)
Long distance Transportation (small/medium sized boats, inter and intra city trains)
Alternate mobility devices (bicycles, Segway, unicycles, drones, UAVs and hoverboards)
Application specific requirements of Energy Storage Technologies

Existing Technologies and major manufacturers of Storage for Mobility Applications

Li-ion batteries
Expected improvements in 3-5 years
High voltage cathodes, high capacity anodes, high performance electrolytes, Li-S batteries

Next Generation Technologies – Part I: Solid state batteries

Construction and design
Classification of SSBs
Major OEM investments in SSB startups
Product offerings of prominent SSB companies (Solid Energy, Solid Power, Prologium, Blue solutions, Sion Power)

Next Generation Technologies – Part II: PEM Fuel Cells

Comparison of Fuel Cell Technologies
Green Hydrogen on-site Production: Electrolyzers
Ongoing technological and manufacturing challenges
PEMFCs for 4W, heavy vehicles and trains
Key questions the report answers
Which technologies are suitable for e-mobility applications and what improvements can be expected in the next 3-5 years?
Which technologies are on the horizon and will be commercially manufactured an available soon?
How are these technologies superior in performance to existing storage solutions?
Which Solid state battery companies are at the forefront of developing new technologies?
What are the recent developments and PEM fuel cells for e-mobility and which applications will they enter in the next 3-5 years?