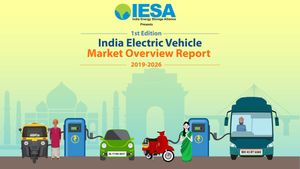 IESA's very first edition of India Electric Vehicle Market Overview report covers the present scenario and forecast of EVs and the public charging infrastructure market in the country. The report covers updated revenue and unit sale details by various EV segments and Charging Infrastructure types. There is an in-depth analysis of EV battery value chain by EV segment, detailed state EV policy analysis, and competitive analysis of EVs and EV battery suppliers.
The EV market in India has gained significant momentum after the implementation of FAME India scheme. The total EV sales in 2018 hit 365,920 Units and expected to grow at a CAGR of 36% till 2026. The EV battery market in India is estimated to be US$ 520 Million in 2018 and forecasted to grow at a CAGR of 30% till 2026. The total MWh addition in 2018 hit 4.75 GWh and expected to grow till 28.0 GWh by 2026.


Market Segments:
EV segments: Electric Two wheelers, Low speed Three wheelers, High-speed three wheelers, Personal electric Cars, Commercial Fleet Electric cars, Electric buses.
EV Public charging Infrastructure Segments: Type 1 AC (upto 3.3kW), Type 2 AC (3-22kW), Fast DC (15-150kW)  

Key Questions the Report Answers:
How is the EV market going to be in the country till 2026?
Which EV segment is expected to have the highest growth and why?
How the EV battery demand expected to grow in the country in the next 5 years?
Which States in the country have the most supportive EV policy?
How is the EV market supported by public charging infrastructure during the next 5 years?
What are the various business models for public charging stations in the country?
...................................................................................................................


Table of Contents
Executive Summary
Global EV Market Outlook in 2018
India EV Market Outlook in 2018
EV Market Outlook, India, 2018 - 2026
Battery Demand Outlook for EV's, India, 2018 - 2026
Cumulative Battery demand for EV's, India, 2018 - 2026
Battery Market Opportunity for EV's (Million $/ INR Crore)
EV Market Drivers
Key Opportunities & Challenges in the EV Ecosystem
Public EVSE Market Outlook, India, 2018
EV Charger Market Revenue Forecast, India, 2018-2026
Market Segmentation
Classification of Conventional Vehicle Market in India
Classification of Electric & Hybrid Vehicle Market in India
Classification of Battery Technology for EV's & Hybrid Vehicles
Comparison of Technical Parameters of different Battery Chemistries
EV Market Overview
India EV Market Outlook in 2018
           Battery Pack Supply Chain for EV's in India (EV OEMs- Battery Cell Supplier- Battery Pack Supplier)
Electric Two-Wheeler Market
E2W Sales Trend (2011-12 to 2018-19)
Market Share Analysis of key OEMs
Battery Technology Split of E2W's
Battery Demand Estimation & Types of Li-ion chemistries.
Key Battery pack suppliers in E2W segment
      3.2 Electric Three-Wheeler Market
Market Overview of Low speed & High speed E3W's
Sales estimation of key players in the segment
Key parameters of Low speed E3W such as (Avg. Cost, Avg. Motor size & cost, cost & size of battery pack, charger, life, and resale value)
Battery Technology Split (Share of Lead vs Lithium ion battery)
Battery Demand Estimation and Share of different battery chemistries
Key Lithium ion battery pack providers
      3.3 Electric Four-Wheeler Market
Personal Electric Car Market Overview
Cost Parity Analysis of E4W vs ICE 4W
Fleet Electric Car Market Overview
Market share analysis of key OEMs
Battery Demand Estimation & Share of different Lithium ion chemistries
Upcoming Electric Cars in India Market
      3.4 Electric Bus market
Market Overview
Market Share Analysis of Key OEMs
Battery Demand Estimation & Share of different Lithium ion chemistries
Market Share Analysis of Key Battery pack suppliers
Key Lithium ion battery cell suppliers
EV Policy Outlook in India
Developing Policy Scenario
Key EV Policy Stakeholders
Implementation of FAME India scheme
Key Highlights of FAME-1 scheme
Introduction to FAME-2 scheme
Electric buses sanctioned by DHI under FAME-2
Phased Manufacturing Program for EV's
Revised Phased Manufacturing Program for EV's
       State EV Policies
Comparison of State EV Policies

Karnataka EV Policy
Andhra Pradesh EV Policy
Maharashtra EV Policy
Kerala EV Policy
Uttarakhand EV Policy
Uttar Pradesh EV Policy
Telangana Draft EV Policy
Delhi Draft EV Policy
EV Market Forecast
Electric Vehicle Market Outlook
Battery Demand Outlook
E2W Market Forecast
Battery Demand Forecast for E2W's
Low Speed E3W Market Forecast
Battery Demand Forecast for Low Speed E3W's
High Speed (L5M) E3W Market Forecast
Battery Demand Forecast for High Speed E3W's
Personal Electric Car Market Forecast
Battery Demand Forecast for Personal Electric Cars
Fleet Electric Car Market Forecast
Battery Demand Forecast for Fleet Electric Cars
Electric Bus Market Forecast
Battery Demand Forecast for Electric buses
EV Support Infrastructure Market
EV Support Infrastructure Market Segmentation
Basics of EV Charging
Global Charging Station Conceptualization
Global EV Charger Connectors
India EV Charging Infra Standards
Public Charging Station Guidelines by MoP
EV Charger Cost, Duration and Characteristics
2018 EV Charger OEMs Market Share*
2018 Charging Network Operator* Market Share
EV Charger Market Policies & Guidelines
MOP Charging Infrastructure Roll-Out Plan
DHI EOI for Charging Infrastructure Under FAME II
Tariff for EV Charging
India EV Charger Market Developments 2017-19
Public EV Charger Market— Unit Forecast
EV Charger — Connected Load Forecast
EV Charger Revenue Forecast
EV Charging Infrastructure Value Chain
Business Models
Major EV Charging Station Tenders
EV Charging Infrastructure Value Chain
Major EV Charging Station Tenders
Charging Network Operators in India
Partnerships in the EVSE Market
Challenges faced by Industry Stakeholders
Next Steps in EV Charging
Solar EV Charging Stations
Battery Swapping Stations