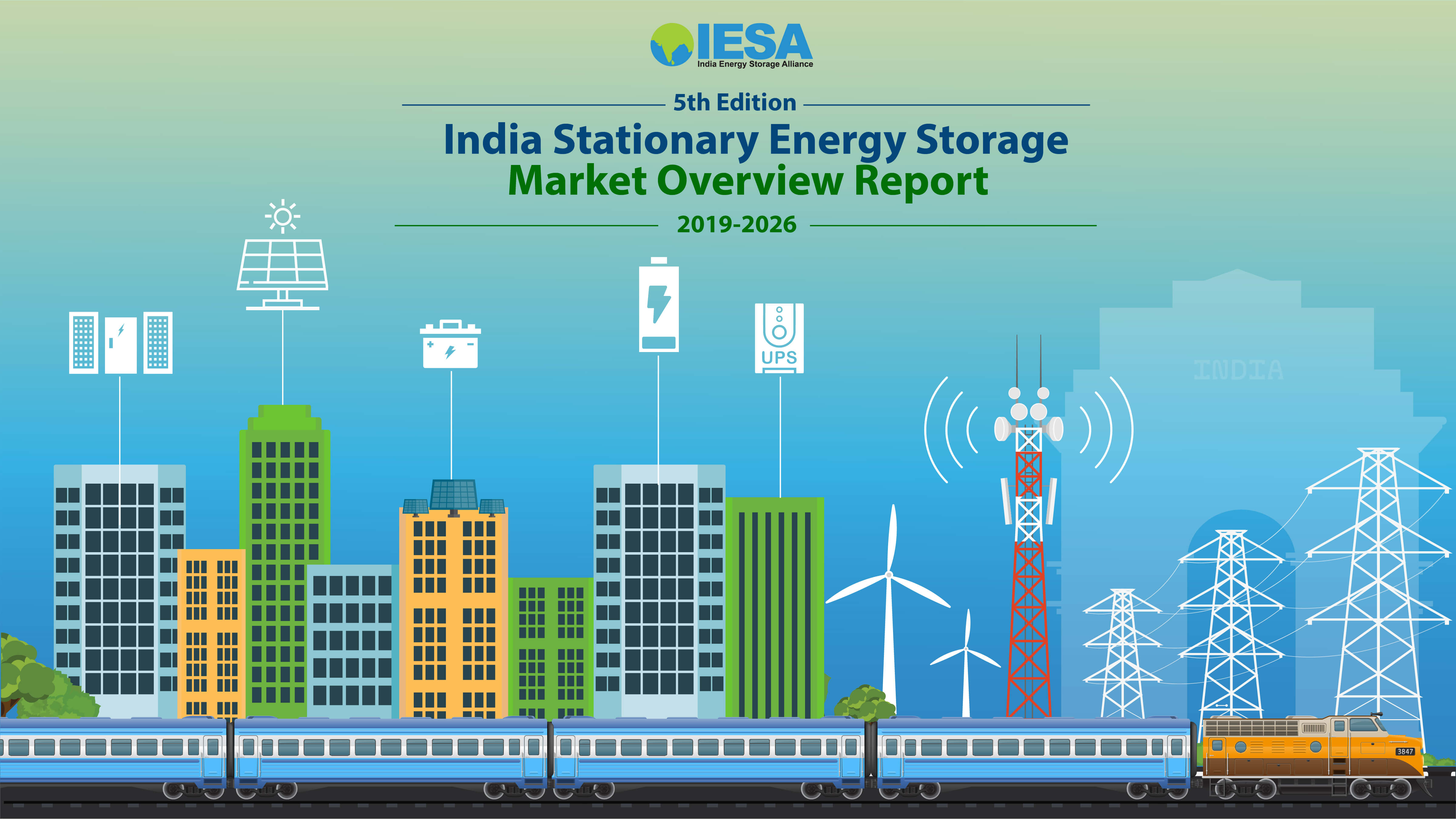 IESA's 5th edition of India Stationary Energy Storage market report estimates the market for Energy Storage in India to be US $2.8 billion in 2018 and forecasted to grow at a CAGR of 6.1% by 2026. The total annual MWh addition in 2018 hit 24.4 GWh and expected to grow to 64.5 GWh by 2026. The report dwells in-depth into various application of advance storage technologies such as in Renewable Energy integration, Transmission & Distribution (T&D) deferral, ancillary services, railways, microgrids, telecom, and behind the meter applications such as inverters, UPS, solar rooftop and so on. Base year of the study is 2018, forecast period is 2019-2026.
Market Segments:
Grid-scale storage applications in Solar integration, wind integration, T&D deferral, Ancillary services,
Behind the meter storage applications such as telecom, rural electrification, solar rooftops, diesel replacements, inverter back-up, UPS back-up, Thermal Energy Storage
Railways: Rolling stock, signaling and control room back-up.
Key Questions the Report Answers:
Which are the key growing segments under stationary storage in India? How is the market expected to grow till 2026?
What are the major drivers & limitations to this market growth?
What is the status of various grid-scale storage projects in the country?
What is current policy landscape for stationary storage market, and what is its impact on market growth?
How is the competitive environment changing in this market?
........................................................................................................................................................................
Table of Contents

1. Executive Summary
India Energy Storage Market 2018 – 2026
Market Potential and Forecast
Market Drivers
Market Limitations
Emerging Business Models in Global ESS Market
2. Grid Scale Energy Storage Market

2.1 Cumulative Projection 2018-25
2.2 Indian Grid Scenario
The Evolving Indian Grid & Capacity Addition
Limitations of Gas and Pumped Hydro as Flexible Assets
Role of Energy Storage in Indian Grid
ESS Applications in Indian Scenario
Summary of RE Tenders with Storage in 2018
Energy Storage Project Tenders Announced/Completed in 2018-19

Wind+Solar+ESS Hybrid Projects
ESS tenders Across the Electricity Value Chain
New/Draft Regulations and Its Impact
2.3 Grid-Scale Wind
Installed/Projected Wind Generation Capacity
Wind Tariff Trends
Case for Energy Storage Application
Energy Storage Potential for Grid-Scale Wind
Wind Energy landscape
2.4 Grid-Scale Solar
Installed/Projected Solar PV Capacity
Grid Scale Solar Tariff Trends
Case for Energy Storage Application Solar Park Implementation Status
ESS Opportunity Size for Solar PV Integration
Solar Energy and Energy Storage landscape
2.5 Ancillary Services (AS)
Introduction to AS
Latest Developments in AS Market
AS Landscape
ESS Potential in AS Market
ESS for Frequency Regulation
ESS Opportunity Size for AS
2.6 Transmission Investment Deferral
Case for Energy Storage
Green Corridor Investment Deferral
ESS Opportunity Size for Transmission Investment Deferral
2.7 Distribution Utility ESS (Distribution Utility ESS) Integration
Case for Energy Storage at Distribution grid
Case for ESS: Distribution Deferral
ISGF case Study on Distribution Deferral
ESS Opportunity Size for Distribution Utility ESS
Business Models
Grid Scale Summary
3. Behind the meter energy storage market

Rooftop Solar
Current Rooftop solar PV Scenario
Roof-top Solar PV Scenario Prediction
Status of Energy Storage in Rooftop Solar
Energy Storage Market Opportunity in Rooftop Solar
Diesel Usage Optimization (Replacement)
DG Set Market
Diesel Usage in Commercial and Industrial Set-up
Diesel Replacement and Role of Energy Storage
Energy Storage Market Opportunity Size
Inverter Back-up
Inverter Back-up Market
Key Trends in the Market
Energy Storage Opportunity Size Inverter Battery
Inverter Battery Landscape in India
Competitive Structure
Un-interrupted Power Supply (UPS) Back – up
UPS Back-up Market
Key Trends in the Market
Energy Storage Opportunity Size for UPS Back - up
UPS Backup market by Application
UPS Battery Competitive Structure
Telecom Towers
Growth projections of telecom towers in India
Key Trends in Telecom Infrastructure Sectors
Telecom: Energy Storage Market Opportunity Size
Telecom Sector Competitive Landscape
Telecom Battery Competitive Structure
Rural Electrification (RE)
Energy Storage Scope in RE
Policies and Schemes
Energy Storage Potential in Microgrids
Energy Storage Potential in Solar Street Lights
Energy Storage Potential in Solar Home Lighting Systems
Key trends in the market
Energy Storage Opportunity Size for Rural Electrification
Thermal Energy Storage (TES)
Scope of the Market
TES in Refrigerated Trucks
TES in Cold Storage
TES in Refrigeration
TES in Space Cooling
TES Opportunity By Application
TES Landscape
4 Railways
Energy Storage in Indian railways
Energy Storage Opportunity
Competitive Structure of Energy Storage companies
............................................................................................................................................