Rising concern due to climate change, increased air pollution and environmental hazards has led the global leaders to think on the lines for sustainable mobility. 9 out of 10 most polluted cities in the world are in India. To meet the target set by India under the Paris Agreement, India is moving towards green mobility. Electric Vehicles or commonly known as EV's are not just environment friendly with no emission, no noise, or vibrations but are also great cars to own and drive. These cars have no gear box so no clutch which makes it a delight to drive in city conditions and with instant torque and cheap fuel (electricity) to their counter parts petrol and diesel, it is fun for long distance driving as well. A fully electric car has fewer moving parts, so the maintenance cost for EV's is low.
Battery Electric Vehicles (BEV's) – BEV's have a rechargeable Lithium-ion battery that powers an electric motor which drives the vehicle. These vehicles have no exhaust, no clutch and gear, no spark plugs therefore fewer moving parts which relates to low maintenance cost. An electric vehicle instant acceleration, quite ride, low running cost and zero emissions.

Plug-in Hybrid Electric Vehicle (PHEV) – Plug-in Hybrids are best of both words with a petrol engine combined with an electric motor that is powered by a rechargeable battery. These vehicles were built to reduce range anxiety as they have an internal combustion engine (ICE) which gives reassurance for long distance driving. However, as these vehicles have more moving parts, the maintenance cost is high, and they are not as environmentally friendly as the BEV's.

Conventional Hybrid Vehicles – These vehicles have a conventional ICE combined with a small battery to extend its range. However, the batteries can't be plugged in a charging station, they get charged by the ICE and break. The battery only allows up to 2 kms of driving range in electric mode. So, a fully electric vehicle or a plug-in hybrid are far superior in efficiency and produce fewer emissions.
Categorisation of Electric Vehicles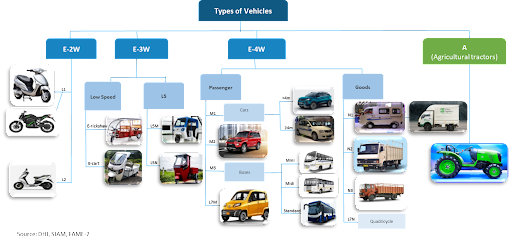 Vehicle Type 

Vehicle Category 

Details 

E-2W

L1

A 2W with speeds between 25-70 km/h and motor capacity not exceeding 4 kW 

L2

2W with vehicle speed more than 70 km/h and motor capacity above 4 kW 

E-3W

Low Speed

Vehicles with speed upto 25 km/h and motor capacity less than 2 kW

Example – E-rickshaw (Passenger) and E-cart (Goods Carrier)

L5

Vehicles with speed above 25 km/h and motor capacity more than 2 kW

Example – L5M (Passenger Carrier) and L5N (Goods Carrier)

E-4W













Passenger 

Cars 

M1 - Vehicle with 8 seats in addition to driver 

Example - <4m (Hatchback) and ≥4m (Sedan)

M2 - Gross Vehicle Weight (GVW) not exceeding 5 tons with 9 seats in addition to driver 

Buses

M3 - Gross Vehicle Weight exceeding 5 tons with 9 seats in addition to driver

Example - 

Mini – 7m 
Midi – 8.2 – 9.4m 
Standard – 12m

L7M – Vehicle with quadricycle length of 3m and kerb weight not more than 475kg and having 4 seats including driver  

Goods 

N1 – Vehicles used for the carriage of goods and having a maximum mass not exceeding 3.5 tonnes. 
N2 – Vehicles used for the carriage of goods and having a maximum mass exceeding 3.5 tonnes but not exceeding 12 tonnes
N3 – Vehicles used for the carriage of goods and having a maximum mass exceeding 12 tonnes
L7N – Vehicle with quadricycle length of 3.7m and kerb weight not more than 550kg and having 2 seats including driver