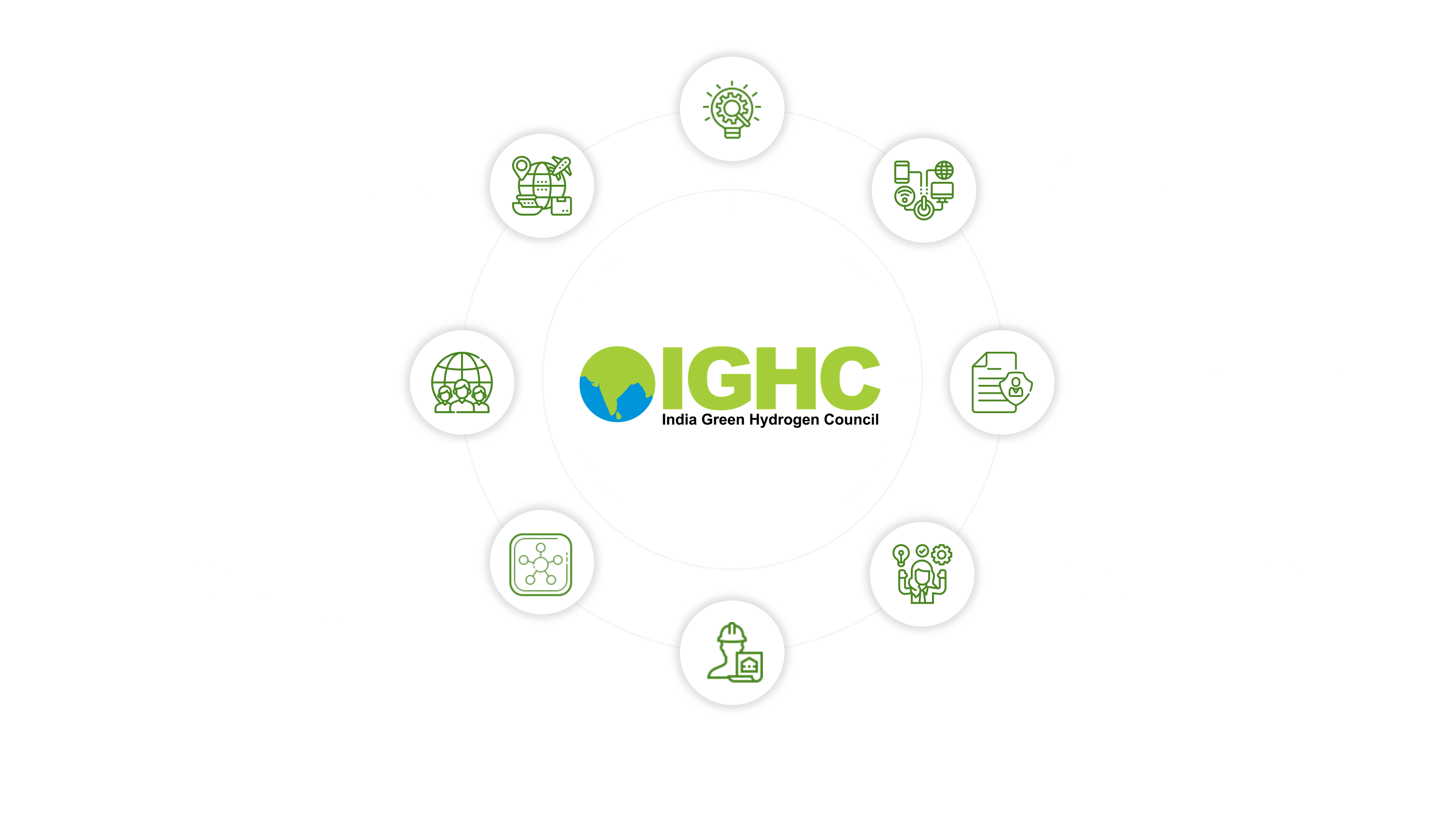 To catalyse the Green Hydrogen deployment in India with export opportunity

To make India a global as a global hub for electrolyser and other green hydrogen components manufacturing

To boost indigenous R&D and innovation and International Collaboration in Green Hydrogen technologies

Policy advocacy for both state and central government bodies to create a robust green hydrogen economy for India

To create knowledge resource and next generation skilled workforce for Green Hydrogen sector

Stationary Power Generation: Distributed power generation using fuel cell technologies (SOFC, PEMFC, AFC, PAFC and MCFC) for industrial and domestic applications.

Production: Production of green hydrogen using various electrolysers (PEM based, AEC based and SOEC) powered by renewable energy including non-electrolytic green hydrogen technologies

Storage, transportation & distribution: Next generation technologies for compact, safe, and cost-effective storage of hydrogen

Mobility: Hydrogen generation and distribution infrastructure for enabling PEMFC based transportation (land based – commercial and heavy-duty vehicles, marine and aviation)

Industrial Hydrogen Uses: GH generation for addressing all industrial requirements (fertilizer production, food processing, steel & cement manufacturing, chemicals industry etc.)
Our Activities in Green Hydrogen Space

After 6th Inter-Governmental Consultations between India and Germany in 2022, during Prime Minister Narendra Modi's...
Leading Hydrogen Experts Outline National Green Hydrogen Mission and Opportunities at IGHC Virtual Panel...

International Collaboration

Policy Advocacy

Market Creation

Knowledge Paper and Market Report

Technology Understanding Support

Green Hydrogen Working Group Meeting