Access to recorded sessions of the 6th World Energy Storage Day - all sessions & workshops
The largest worldwide event, 6th World Energy Storage Day (WESD) 2022, was hosted by Customized Energy Solutions (CES) and the India Energy Storage Alliance (IESA) and featured 150+ eminent speakers from 30+ nations. The 24-hour marathon event was held virtually on September 22, 2022 which was supported by 30+ global organizations.

Industry experts, decision-makers, researchers, and professionals were brought together on one platform for the global virtual conference & expo to discuss the regulatory environment, R&D, roadmap, and forecast for the energy storage, e-Mobility, and green hydrogen industries. The conference covered 16-panel discussions covering four global regions, APAC, Indian Subcontinent, EMEA and Americas. Each region had four sessions: stationary energy storage, e-mobility & enabling infrastructure, green hydrogen, and manufacturing & supply chain.
The event hosted 10 workshops on- Battery Recycling, Mini Grid and Social Equity supported by MICRO and ARE, Workforce Development and Jobs in Energy Storage, ESS Modelling & Optimization supported by CES, Long Duration ESS supported by LDES and US DOE, Solar + Storage supported by NSEFI, Giga factory Supply Chain, Urban Air Mobility, Women in Energy, Battery Fire in EV & ESS supported by UL Research Institutes.
WESD hosted the Global Startup Showcase 2.0 in the areas of Smart Energy, Energy Storage, Electric Mobility, Energy Access, Green Hydrogen and IoT. The showcase was supported by New Energy Nexus and Climate Collective.
WESD movement was started in 2017 to recognize the importance of energy storage in reaching the global aim of a greener grid and cleaner transportation. It brings together Industry stakeholders, CXOs, Policymakers, Thought leaders, Think tanks, and Associations on a single platform every year.
Click to download the agenda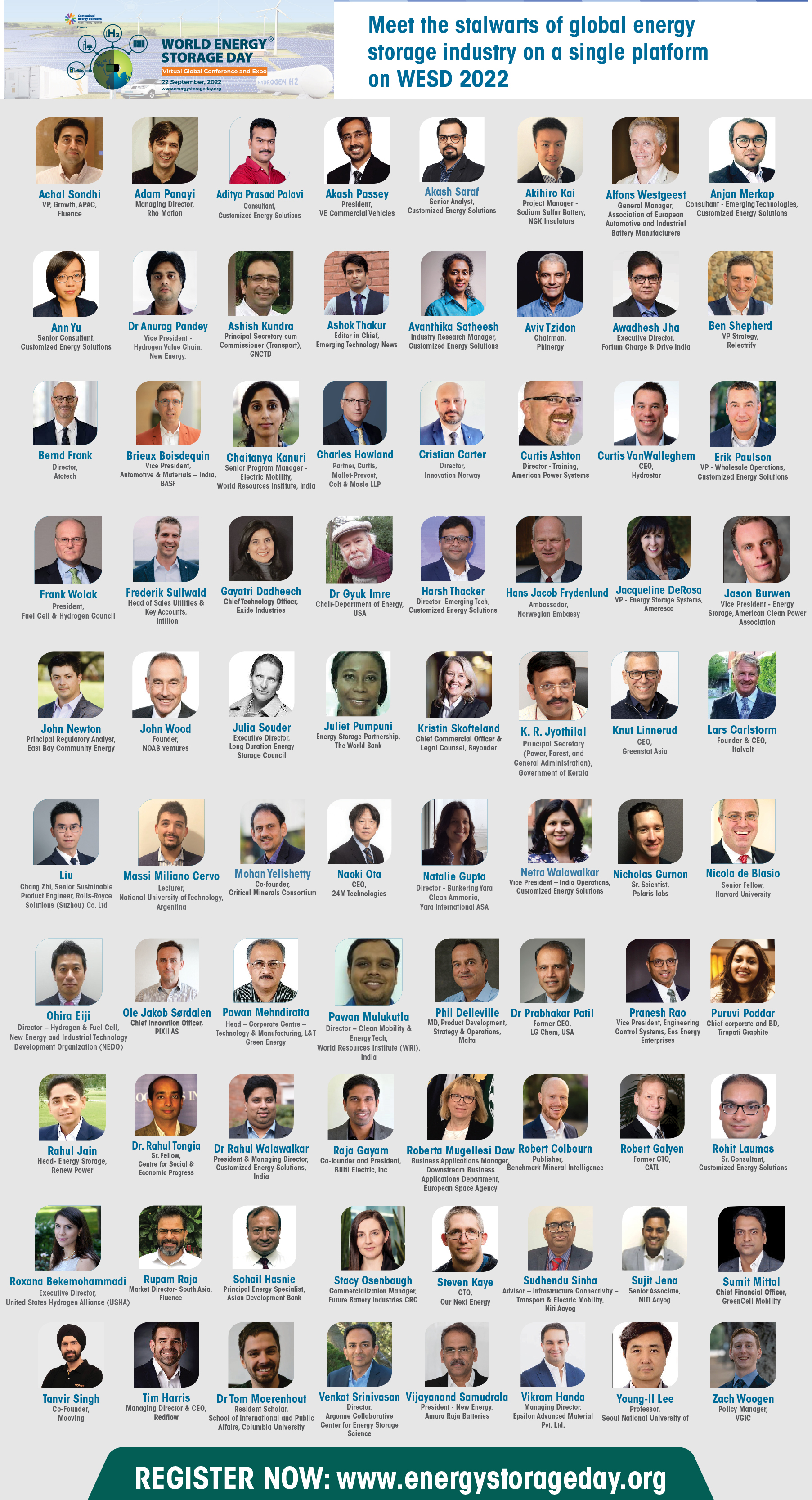 Mon, Sep 26 2022 11:00 AM - Sat, Dec 31 2022 06:00 PM
Location
India

---
₹ 7900