IESA open webinar on EV Infrastructure & V2G Opportunities for India
As the Electric Vehicle market is growing faster worldwide, different new technologies are evolving which can be commercialised in the upcoming years. Charging technology is one of the most important aspects of the EV ecosystem. Charging of electric vehicles certainly gives some load on the power grids and affects the supply and demand of electricity generation. New ideas and ways are developing to balance this calculation of supply and demand of electricity in the grids.
Vehicle to Grid (V2G) is one of the proposed solutions- evolving technology that can be implemented. In V2G, the batteries of the vehicles can be charged and discharged depending upon the electricity consumption and production at the local grid. This is one of the best ways to use EV batteries more efficiently as a form of energy storage device stabilizing grids. Some car makers have already started to manufacture the V2G compatible models to commercialize this technology. All Nissan Leafs on the market can be discharged with vehicle-to-grid stations. Mitsubishi has also announced plans to commercialize V2G with Outlander PHEV. V2G is one of the most promising tools in the demand response markets. The global V2G market is projected to reach $ 15.03 billion by 2031, growing at a CAGR of 25.3 % from 2022 to 2031, according to Allied Market Research report. Some of the global key players of the market are Nissan Motor Corporation, Mitsubishi Motors Corporation, NUVVE Corporation, ENGIE Group, OVO Energy Ltd, Group Renault, and Honda Motor Co., Ltd among others.
Does V2G affect the battery life of the electric vehicle? What will be the required modifications in the charging devices and electric vehicles? Does it play a role in stabilizing the grids and to what extent? To discuss such questions and the V2G technology, IESA is arranging an open webinar.
Register at- 
https://us06web.zoom.us/webinar/register/WN_EgKqQ7nhQlWorpg3w7xS7w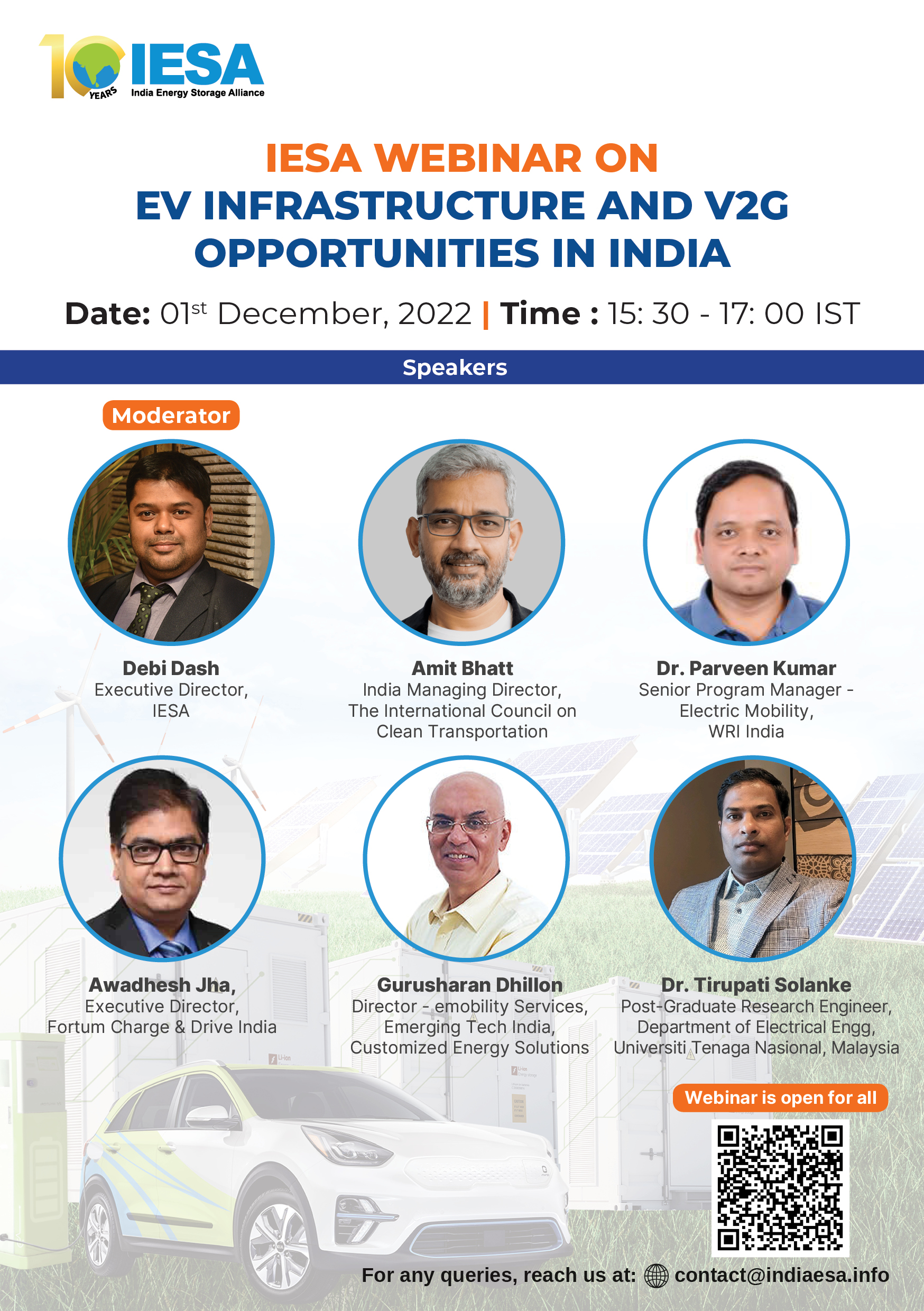 Thu, Dec 01 2022 03:30 PM - 4:30 pm
Location
India

---