Advanced Cell Chemistry (ACC) Manufacturing Masterclass
About the Event
India has become one of the fastest growing markets for advanced energy storage technology supporting the exponential growth expected in its electric vehicle, stationary storage market over the next 5 years.
With IESA estimating the India market to grow over 500GWh (2020-27) considering ESS & EV opportunities, around $5 billion investments are expected to be attracted supporting 50+GWh capacities for multiple li-ion battery gigafactories.
The Indian government is strongly backing this market via the recently launched National Mission for Transformative Mobility & Battery Storage (NMTMBS) with Production Linked Incentive (PLI) scheme for advanced battery manufacturing through ACC program by NITI Aayog. Importantly, most State Governments too are focused on manufacturing of advanced energy storage technologies and its adoptions.
The Advanced Cell Chemistry (ACC) Manufacturing Masterclass is a program designed to guide rising decision-makers and investors from the energy sector to set up gigafactories by sharing the latest research and development, market analysis, technology updates, and for introducing them to the manufacturing process, supply chain, government policies and benefits, export-import, safety and testing as well as skills development.
WHO SHOULD ATTEND
• Business Decision Makers
• Business Executives
• Department Heads
• Energy Storage Investors
• Supply Chain, raw materials
• Manufacturing Equipment and Battery Component Suppliers
OBJECTIVES
Get an overview of the Energy Storage Technologies, technology parameters.
Understand central and state government policies and schemes
Understand demand generation & applications in the energy storage sector
Get an introduction to the Indian energy storage & e-Mobility Market
Understand the manufacturing process of Giga factories
Know the required equipment, components, and raw material
Learn active material processing and other manufacturing technologies
Learn cell-module-pack manufacturing process
Understand safety 7 standards requirements
Know your recycling, disposal and second life options
Get familiar with export, import, and shipping procedures
Participate in R&D initiatives, skills development, and manufacturing round tables
DATE:
Day 1: (Optional): 17th June 2021
Day 2: 18th June 2021
Day 3: 19th June 2021
Day 4: 25th June 2021
Day 5 (Optional): 26th June 2021
Timing (IST)
Day 1: 16.00  to 18.00 hours IST
Day 2 - Day 5: 14.00 pm to 20.00 hours IST
Mode of Training of Training:
Recommended Prerequisites:
Day 1 – Energy Storage Technology Overview
Certificate:
Yes
Program Details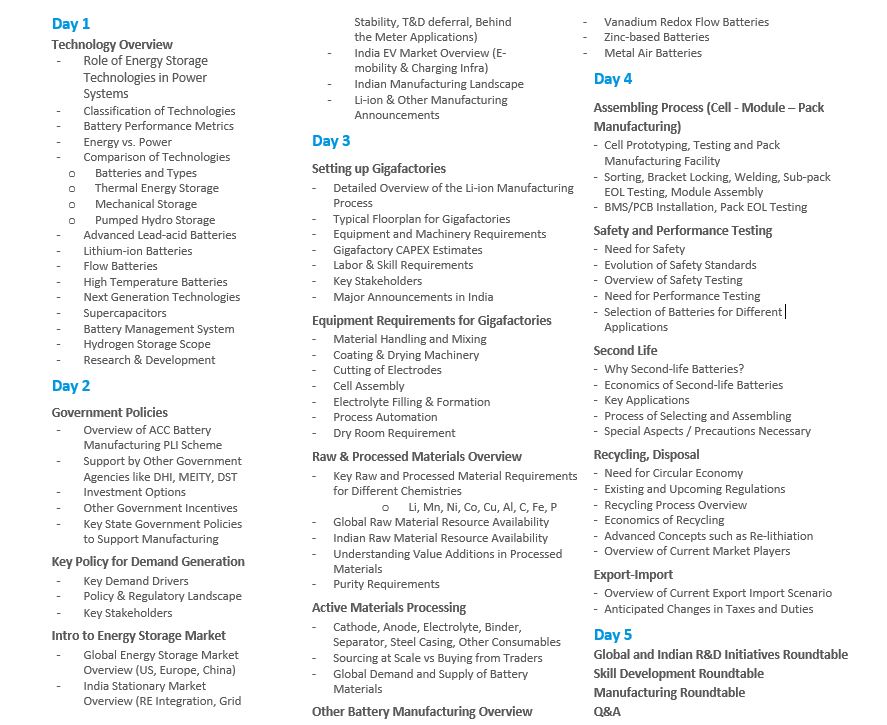 List of Speakers:

Shri Sudhendu J. Sinha, Adviser, NITI Aayog, Govt. of India
Sajid Mubashir, Scientist G, Dept. Science & Technology, (EV-R&D Mission | EV Charging Standards)
Dr Judy Jeevarajan, Research Director, Electrochemical Safety, Underwriters Laboratories Inc
Dr K. Ramesha, Senior Principal Scientist, CSIR-CECRI
Prof. Suddhasatwa Basu, FNASc, FNAE, FRSC, FICS, Director, CSIR-IMMT
Varun Pahwa, President at DRI (Pahwa Group), Bry-Air
Dr Bharath Reddy, AGM, Solar Energy Corporation of India (SECI)
Manoj M. Desai, General Manager, The Automotive Research Association of India (ARAI)
Dr Rahul Walawalkar, President - IESA & MD, CES (India)
N Mohan, Dy. General Manager, (Head- EV Charing Infra), EESL
Nehal Singh Bajwa, Head - Auto, Capital Goods & Chinese Investments, Invest India
Akshay Singhal, Founder & CEO, Log9 Materials
Dr Avishek Kumar, CEO, V-Flow Tech Pte. Ltd 
Sujit Kumar Jena, Senior Associate, NITI Aayog
Dr Tanmay Sarkar, Sr. Consultant, R&D, CES India
M B Gadgil, Chief Advisor, Advanced Carbon Division, Himadri Speciality Chemical
Aman Hans, Ex-NITI Aayog
Avanthika Satheesh, Research Manager, ET, CES (India)
Dr Yashodhan Pramod Gokhale, VP- BD, Octilion System
Mr. R P Deshpande, Industry Veteran, Author, and Consultant
Harsh Thacker, Director and Analyst, Consulting Services, CES (India)
Kapil Malhotra, Sr.Vice President- Marketing, Gujarat Fluorochemicals Limited                      
Dr Arjun Bhattarai, CTO, V-Flow Tech
Bindu Madhavi, Manager – Regulatory & Policy - India Energy Storage Alliance (IESA)
Dr Abhik Banerjee, Team Leader, Research Institute of Sustainable Energy (RISE), TCG CREST
Venkata Kuladeep M, Manager, New Technology Development, Amararaja Batteries
Dr Nallathamby KALAISELVI, Director CECRI
Dr K.C. Vora, Sr. Dy. Director & Head, ARAI Academy, Chair, ASDC Expert Group for Electric Vehicles
Debi Prasad dash, Executive Director, India Energy Storage Alliance (IESA)
Dr. Harin Kanani, Managing Director, Neogen Chemicals Ltd
Vaibhav Dalvi, Business Build-up E-Power Management, BASF New Business
Kowtham V S, Director (New Initiative), India Energy Storage Alliance (IESA)
Nikhilesh Mishra - Co-Founder and CEO - Grinntech Motors
Neeraj Kumar Singal, Director, Semco Group
Fireside chat with Saroj Sahu, Chief Operating Offer, Kore Power
Fireside chat with  Robert Pedraza, Ex-President, EnerBlu
Fireside chat with Prabhakar Patil, Former CEO, LG Chem Power
Click to download the brochure
---