Hands on Li-ion Cell Fabrication workshop
IESA Events
Pune, Maharashtra, India
5th Aug 2021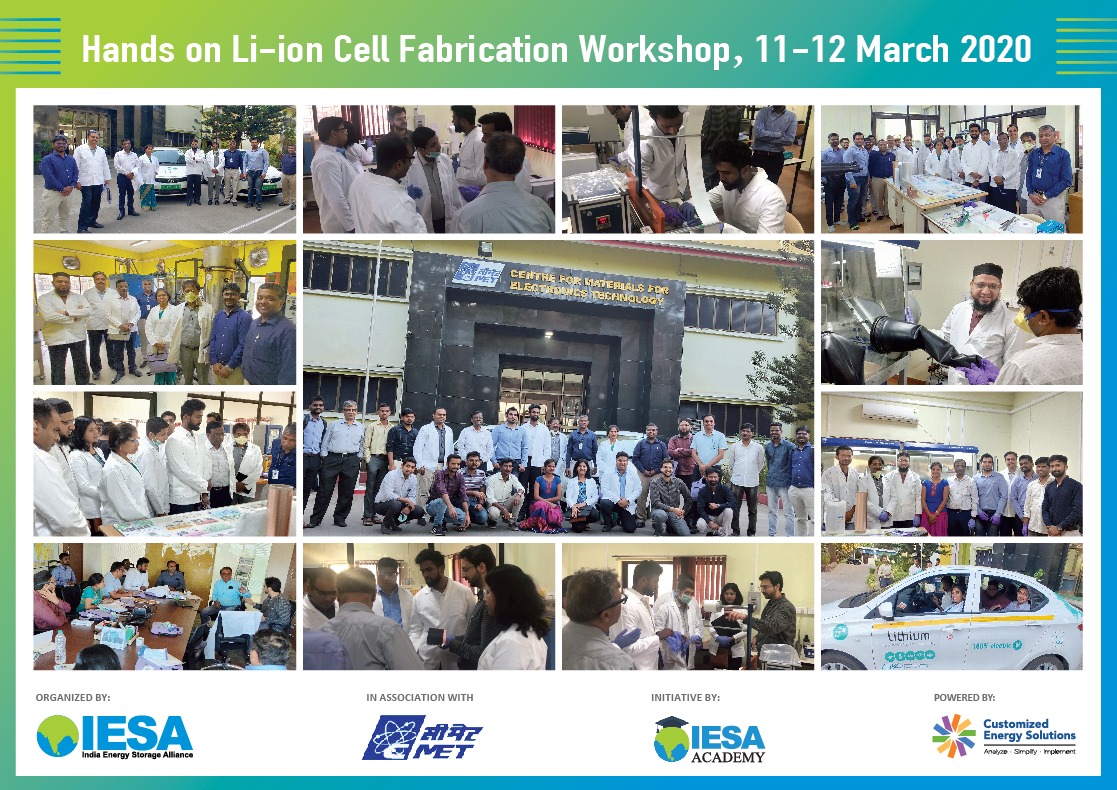 About Event
Why you should attend Hands-on training on Li-Ion Cell Manufacturing?
This unique program designed by IESA & our experts will assist the industry in understanding and learning the Li-ion cell manufacturing process via hands-on lab training. Our program will help participants understand the requirements of raw material, equipment & detailed manufacturing processes.
Key Learnings for Participants:
Hands-on training session for pouch cell fabrication
Preparation of cathode ink and coating on current collectors for electrode fabrication
Hands-on training session on battery testing and criteria for cell selection
Presentation on cell manufacturing, chemistries and performance characteristics
Presentations on next-generation Li-ion technologies
Who Should Attend?
Anyone who is interested in learning about the actual process of electrode preparation and battery fabrication is invited to attend this workshop. The lab sessions and classroom sessions are specially designed for getting you up to date with the fundamentals of cell manufacturing. Focused lectures by our team of experts will guide you to having a solid foundation of the past, present and future possibilities in Li-ion batteries.

Click to download the brochure
Hear from the earlier participants about the workshop:
Mahesh Padmanabh, EV/HEV Engineer, The Automotive Research Association of India (ARAI)
"This workshop has been very useful and is a great need of the hour for the industry. People in the automotive market do not have the necessary skill set to be entering the EV & battery market and IESA has done a great job, as this workshop has been helpful not only from the market point of view but from the point of the actual fabrication and analysis of lithium-ion cells"
Dr.P.Ramesh, Sr Manager, Lucas TVS LTD
"The program organized by IESA  is informative and timely. This program which is in collaboration with CMET has been successful to demonstrate the manufacturing of Li-ion battery technology and also the lab-scale operation. The overall training was useful and thanks to IESA for organizing this program"
G Devi, Senior Engineer, Amara Raja Batteries Limited
"The two-day workshop organized by IESA, in collaboration with CMET shares useful information on the cell fabrication of Li-ion technology and I have gone through all the processes to fabricate a li-ion cell and have attended in-house classes to understand the material availability along with global market assessment for it. I have also learned about the various critical parameters to be noted in deploying a li-ion battery manufacturing plant. I recommend this workshop not only to the battery manufacturers but also to people who are interested in the li-ion battery cell fabrication"

To register, contact
Ashok Thakur, +91 9819944543, event@indiaesa.info

Note- We are closely monitoring the COVID19 situation and will be able to confirm the final schedule and dates only after there is more clarity on it.
Event Timings
August 5, 2021, 9:00 am - August 5, 2021, 6:00 pm