2nd AtmaNirbhar Bharat - Energy Storage Manufacturing Roadmap for India
IESA Events
Pune, Maharashtra, India
CLOSED
29th Jul 2020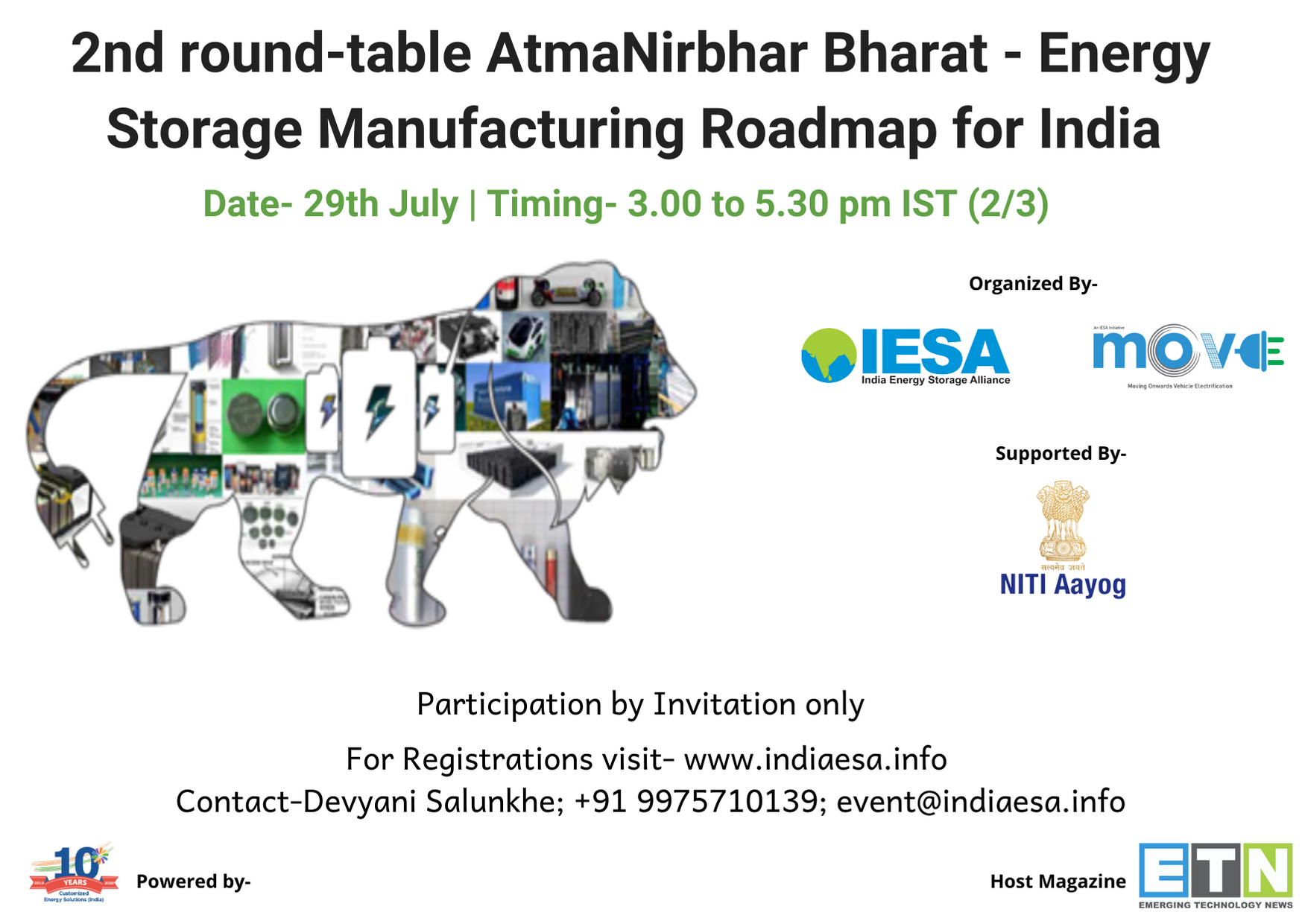 About Event
NITI Aayog has developed National Mission for Advanced Chemistry Cell Manufacturing that is anticipated to get launched shortly. India is one of the leading countries in Lead Acid manufacturing. The Li-ion battery manufacturers in India are currently assembling packs importing cells. At IESA, we believe that it is high time for the Indian industry to take up R&D and advanced cell manufacturing so that we reduce our dependence on other countries. The recent pandemic related to COVID19 has highlighted the importance of domestic manufacturing, considering the risk of global supply chain disruptions. Energy storage and EVs are important for national energy security and we should learn from the recent events and accelerate our efforts to build domestic capabilities and complete the supply chain.


Recently, Hon'ble PM Shri Narendra Modi mentioned about energy storage R&D and manufacturing for solar integration and encouraging investment in this space. Finance Minister Smt. Nirmala Sitharaman also mentioned in Atama Nirbhar Bharat package to consider energy storage manufacturing as the champion sector for India.


Apart from attracting investments for Giga Factories, state governments and MSME ministry need to support small scale industries to diversify into component supply, Policy on raw materials and ancillary business area of energy storage & EV manufacturing. The Ministry of Mines and other governmental bodies should invest and allow the exploration of raw materials in India. Also, India needs to focus on developing material processing capabilities with appropriate quality to supply to advanced storage manufacturing ecosystem.  The government should create a separate body to promote export of advanced batteries and ESS solutions and drive trains to other countries.


New skill development and reskilling should be the priority of the government for the advanced technology sector. As the leading industry alliance, IESA is working on the above areas and recycling batteries in India. We anticipate significant investments from Indian conglomerates looking to diversify in the area of energy storage and EVs in the next 3-5 years. This would require sustained policy push and a strong will to implement the policies in a timely fashion by the government.
This series of roundtables is our attempt to bring all the relevant stakeholders together and identify priorities for collaboration to make India a global hub for R&D, manufacturing and adoption of advanced energy storage technologies by 2022.


For any queries, reach us at
contact@indiaesa.info
Key Invitees:
NITI Aayog
Khanij Bidesh India Ltd. (KABIL)
Principal Scientific Advisor, Prime Minister of India(PMO)
Department for Promotion of Industry and Internal Trade (DIPP), Ministry of Commerce & Industry
DST, Ministry of Science & Technology
The Ministry of Micro, Small and Medium Enterprises (MSME)
DHI, Ministry of Heavy Industries and Public Enterprises (MHI&PE)
Ministry of New & Renewable Energy (MNRE), Ministry of Power (MoP)
The Ministry of Electronics and Information Technology (MEiTY)
Ministry of Environment, Forest and Climate Change (MoEF &CC)
Ministry of Road Transport & Highways (MoRTH)
National Research Development Corporation(NRDC)
Indian Space Research Organisation (ISRO)
Central Electro Chemical Research Institute (CECRI)
Invest India
State Government Officials
Industry Stakeholders (On invitation)
Agenda
Timing 
Topic / Speaker
3:00 PM - 3:15 PM
Introduction & Theme Presentation by Dr. Rahul Walawalkar, President, IESA & Dr. Satyajit Phadke, Manager, R&D, Customized Energy Solutions
3:15 PM – 3:30 PM
Sh. Satendra Singh, IAS, Joint Secretary, Ministry of Mines*
3:30 PM – 3:45 PM
Dr. Ranjit Rath, CEO, KHANIJ BIDESH INDIA LTD (KABIL)*
3:45 PM – 4:00 PM
Peter Baldwin, Commissioner, India, Government of Western Australia
4:00 PM – 4:30 PM

Industry Talk/presentation by (5-8 minutes each)

Applied Materials
Manikaran Lithium
Himadri Chemical
Bry-Air

4:30 PM – 5:20 PM
Roundtable Discussion
5:20 PM – 5:30 PM
Way Forward
Expression of Interest to Join to Round-table Discussions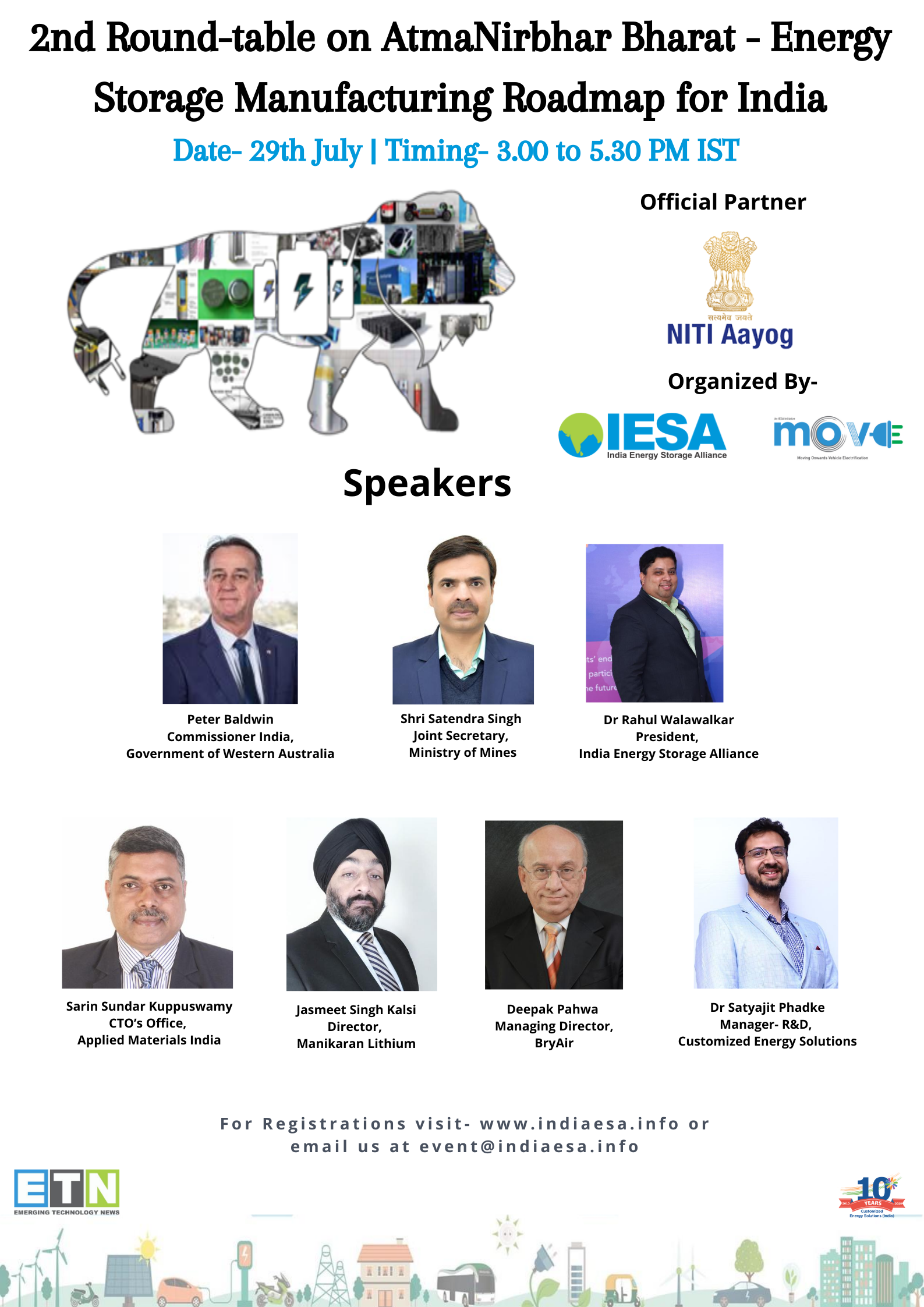 Event Timings
July 29, 2020, 3:00 pm - July 29, 2020, 5:30 pm