Filters

Japan's Softbank Corp is to team up with India's Bharti Enterprises and Taiwan's Foxconn to invest about $20 billion in solar projects in India as the country steps up efforts to boost the renewable energy sector.
Softbank, which has...

A123 spinout says that a semi-solid lithium-ion material can pack energy into a much safer, cheaper, easier-to-make package
Five years ago,  Read More

It was September of 2014, and Ather Energy cofounders Tarun Mehta and Swapnil Jain were running out of money. Raising venture capital was turning out to be impossible as investors weren't willing to risk their funds on an idea as audacious as theirs: a smart electric vehicle for ...

IFC, a World Bank group member on Wednesday said it has invested $35 million in the 10-year non-convertible debentures of PTC India Financial Services (PFS).

PFS will use the funds to boost long-term financing for renewable energy, particularly in wind and solar projec...

Hawaii has the most expensive utility rates in the nation because most of its electricity is generated using imported crude oil. But as a new law moves the state toward renewable energy...

Imergy Power Systems has installed a 30 kilowatt, 120 kilowatt-hour ESP30 vanadium flow battery at Global Academy o...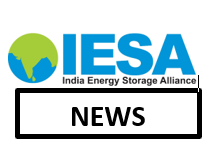 The International Renewable Energy Agency has published a technology roadmap aimed at accelerating the deployment of electrical storage for renewable energy.
'Renewables and Electricity Storage', believed to be the first roadmap of its kind for storage, identifies ...