The Government of India has set an ambitious target of having 30 percent electric vehicles by 2030. IESA in its upcoming 8th India E-mobility Conclave will deliberate on the current policy landscape, roadmap, and outlook for e-mobility in India.


In the past few years, India has witnessed decent growth in the electric vehicle market.
Currently, electric vehicles make up only 1.3 percent of the total vehicles sales in the country, India Energy Storage Alliance (IESA) expects the EV market to grow at a compound annual growth rate of 44 percent between 2020-2027, and to hit a 6.34 million annual unit sale by 2027.
According to the sales data released by the Society of Manufacturers of Electric Vehicles (SMEV), in FY 20-21, EV sales stood at 236,802 including electric two-wheeler (e-2W), electric three-wheeler (e-3W), and electric four-wheeler (e-4W)
Last year, like much of the auto sector EV sales also registered tepid sales due to the COVID-19 pandemic and the resultant lockdowns. While the registered sales in the e-2W segment declined by 6% in FY 20-21 over FY 19-20, and a similar downward trend was witnessed in the e-3W registered sales, the e-4W segment recorded an increase in sales.
The growth in e-4W passenger vehicles sales was largely on account of the growing desire for personal vehicles post-pandemic, skyrocketing petrol prices, and increased consumer awareness about the benefits of owning and operating an EV.
Despite the after-effects of the pandemic, the overall EV industry remains optimistic about the future of the electric vehicle market in the country, buoyed by a slew of supportive policy announcements and rising public awareness about the benefits of EVs.
Ahead of India Energy Storage Alliance's(IESA) 8th India E-mobility Conclave, we spoke to Debi Dash, Executive Director, India Energy Storage Alliance (IESA), and Pradeep Saini, Senior Analyst, E-mobility at Customized Energy Solutions (CES) to understand the EV market landscape in India, key trends and the latest emerging trends.


Q: This is an exciting period for the electric mobility space, marked with encouraging policy announcements and the launch of new vehicles, EV technology & products by private players. What will be some critical aspects in the near term to focus on?
Debi Dash: The Indian Government has taken several encouraging steps for augmenting the growth in the EV market.
Firstly, the government has extended the FAME II scheme by two years and the recent amendment to FAME II has also made the vehicles more affordable.
Further, Energy Efficiency Services Limited (EESL), a Government of India procuring body, has announced that it will aggregate demand for not only e-4Ws but for multiple user segments such as e-3Ws and e-buses. 
In May 2021, the government approved INR 18,100 crore Production Linked Incentive (PLI) scheme for Advanced Chemistry Cell (ACC) Battery manufacturing in India, this is a major move that will help reduce the cost of batteries.
IESA urges the government to work on EV component sector development in the near term. The Phased Manufacturing Plan (PMP) is the right first step in that direction but there is a need to implement PLI in auto components as OEMs and domestic manufacturers of EVs will significantly benefit from it and it will help in the holistic growth of the EV ecosystem in the country.
Also, we are witnessing, several Indian States notifying their State-specific EV policies. Over 10 states in India have final or draft EV policies. The states with approved EV policies include Andhra Pradesh, Karnataka, Kerala, Madhya Pradesh, Maharashtra, New Delhi, Tamil Nadu, Telangana, and Uttar Pradesh. As more States notify and start implementing the EV policies parallel with Central Govt's policies -- it will help to increase the uptake of EVs in India.
Further, several Indian companies, startups, and major conglomerates are diversifying into the EV market, IESA encourages the companies to step up these measures as it is the perfect timing to enter the EV market in India.


Q: IESA is organizing its annual India E-mobility Conclave tomorrow, what will be high on the agenda for discussion? What can EV market players look forward to?
Debi Dash: India E-mobility Conclave (IMC) is the annual flagship event organized by IESA. Over 100 companies attend this conclave annually and it is supported by ARAI, ICAT, SMEV, and other leading organizations like JBM, Accure Battery GmbH, and Hughes Education. At this conference, we are expecting several global companies and Indian companies to showcase their product and technology and their capabilities to the Indian market this will catalyze the growth of the sector.
Further, there will be different policymakers who will deliberate at the conclave on how suitable policies and can support the EV manufacturing ecosystem in India.
The conclave has a unique agenda that will cover EV adoption in the corporate sector led by EESL and other govt. bodies and dedicated sessions to startups, as we see several startups in the e-mobility market in the long run we may see multiple young guns in the e-mobility ecosystem in India.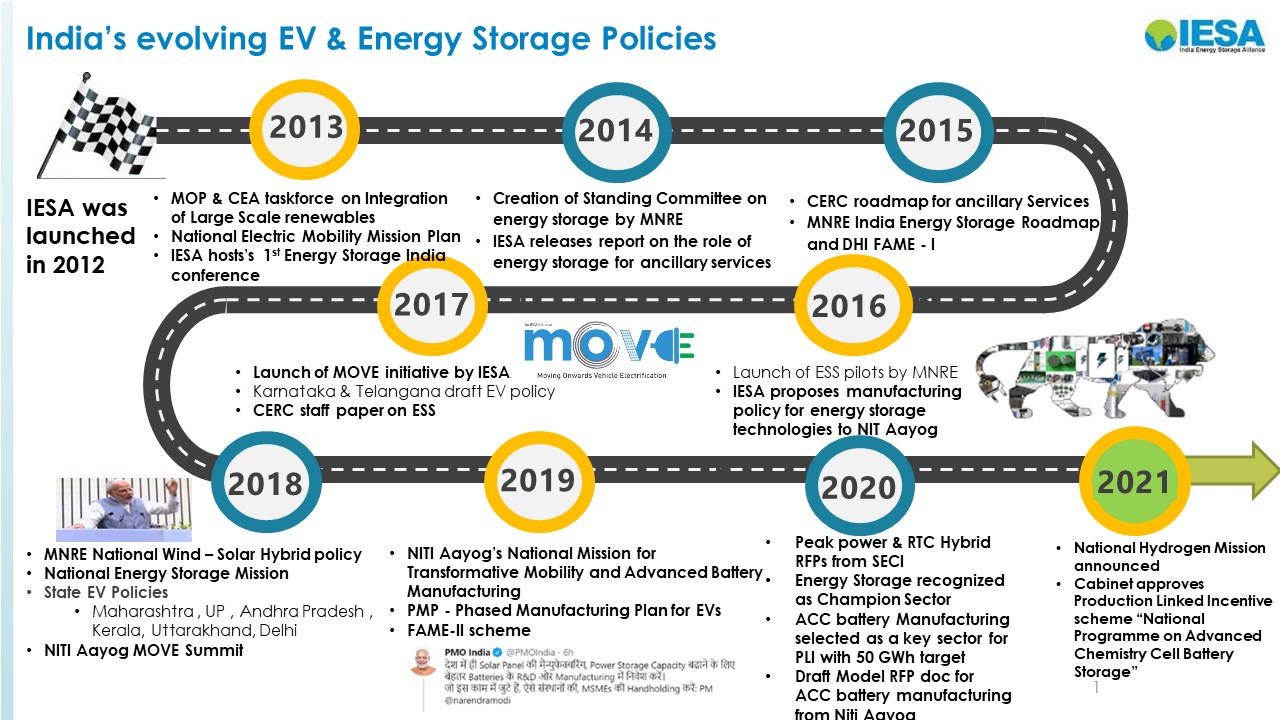 Q: What is the current e-mobility landscape in India?
Pradeep Saini: Overall, the industry is set for growth. If you look at the latest amendment to the FAME II scheme where the govt. has raised the financial incentive on e-2Ws from INR 10,000 to INR 15,000/kWh (subject to a limit of 40 percent of the vehicle cost) it addressed one of the key challenges for the consumers i.e. cost.
Due to increased incentives, the gap between the cost of ICE 2W vehicles and e-2W has reduced significantly, bringing cost parity. So, with the Central Govt. amendment and supportive policy announcement by several State governments like Gujarat, Delhi, Rajasthan, and most recently Maharashtra, the upfront cost of good performing e-2W has come down encouraging consumers to pick e-2Ws.
With this kind of subsidy support along with other key supporting factors such as low running cost, low maintenance cost, rapid increase in fuel prices, zero-emission, etc., industry-- especially the e-2W players -- are optimistic that in the next financial year they will witness a huge surge in the sale of e-2Ws.
There's another viewpoint in the industry that in the upcoming years, supply could be a challenge instead of demand, as the industry has already started witnessing 2x sales at the dealership level and increased waiting period as compared to sales in the last financial year. Now, OEMs want to be in a position to fulfill the increased demand which is why today we are seeing several companies are investing heavily in expanding their operations, and production capacity. Be it, TVS Motors, Okinawa, Revolt Motors, Ather, and others, they are all expanding their facilities as they are more optimistic about the sales in the next few years. Therefore, overall a positive market is predicted for the e-2W segment.
In e-4W, the industry has witnessed a good amount of traction from customers in the year 2020-21. The sales of the e-4W passenger segment have also grown as compared to last year, with Tata Nexon EV leading the market. What this indicated is that good-performing vehicles at an appropriate price point are welcomed by the consumers and are needed in the market.
Earlier, the primary challenge was to provide a higher range, better performing vehicle. Today, that challenge has been well addressed by the EV makers, the overall specification and build quality has been improved over the past few years but now the next challenge that needs to be addressed is the price of the vehicle.
If you have the right product, at the right price point there is an interest from the consumer especially post-pandemic where there's a growing desire to own personal vehicles but the cost is a key challenge.
IESA analysis suggests that the e-4W market will open between 2026-27 (based on cost parity) and that will be a moment where we will see rapid growth in the E-4W segment but up till then sales will go up slowly and gradually.
Overall new players are also entering the EV market and by 2022, the govt. plans to implement CAFÉ norms which again will give an edge to the EV industry pushing them to go for lower emission vehicles.
E-3W market has presently faced a challenge because of the COVID-19 pandemic, in fact, it has caused maximum damage to this segment – experts estimate somewhere between 37-40% decline has been witnessed in the e-3W market due to pandemic
However, despite the temporary slump, this segment is primed to grow stronger. Under the FAME-II scheme, EESL will aggregate the demand for 3 lakh E-3Ws for multiple user segments. In addition to supportive Central Govt. policies, several State Govt. is also giving incentives for e-3W, and few states have indicated they will give permits to e-3W and are also planning to convert the existing fleet of ICE 3Ws into electric.
As far as the electric bus segment is concerned, the market is slowly increasing with support, from both Central as well as State governments. DHI has already sanctioned out 2500+ buses under the FAME-II scheme and going forward, EESL has been assigned by the Department of Heavy Industries (DHI) to aggregate the demand for 9 major cities (Pune, Surat, Mumbai, Ahmedabad, Chennai, Kolkata, Hyderabad, Bengaluru, and Delhi).
Overall, e-2W and the e-3W market will see rapid expansion in the near term, and rapid growth in the E-4W market will open between 2026-27.

Q: What are the main challenges to EV uptake in India?
Pradeep Saini: Firstly, institutional financing remains a key challenge for the consumers interested in purchasing e-2Ws and e-3Ws. There is a lack of institutional financing as banks are unaware of the resale value of electric vehicles.
Secondly, though charging stations are rapidly growing across India, the charging infrastructure is not yet developed to a point where consumers would be comfortable and not have range anxiety.
Thirdly, a local service network is yet to be developed for electric vehicles. At present, there is are services provided by OEMs but a wider local service network that is otherwise present for ICE vehicles is not yet developed for EVs.
Lastly, good quality products which can compete in terms of performance with the ICE vehicles are required to increase consumer interest as the sub-standard products sold in past have affected the image of EVs.

Q: How will the entry of global players like Tesla, shape the Indian EV market?
Pradeep Saini: The entry of global players like Tesla, and Triton has already created a massive buzz in the Indian EV market. This will certainly help in increasing customer interest in EVs along with helping the industry in developing the larger EV ecosystem over time.
The thing with global players like Tesla or others is they will initially offer premium-end e-4Ws, which will make only a fraction (in ICE car sales, premium segment vehicles makes up only 2-3 percent) of the car market in India, the bulk of the demand still comes for vehicles in the price bracket of INR 400,000 – INR 800,000.
These global players will play into this 2-3 percent of the market but for mass adoption of the EVs, we need the right product with the right price point (under INR100,000) with good performance parameters.
Debi Dash: Tesla's India entry is a significant step for the Indian market but we as India Energy Storage Alliance not only want to create an EV adoption market but also encourage and promote global players to set up their EV manufacturing in India. We encourage Tesla to open one of the Gigafactories in India. Tax is a bottleneck but we anticipate it to get relaxed over time.
IESA is fully committed to the Government of India's Make in India mission, and facilitating global companies to set up their manufacturing facilities in India.
For more in-depth deliberation on the Indian e-mobility scenario, India Energy Storage Alliance (IESA) will be organizing the 8th Electric Mobility Event and India E-mobility Conclave (IMC) 2021 tomorrow, July 28.
The conclave will offer a unique platform to interact, network, and pick insights on the market landscape, government policies, new products, EV and charging infrastructure deployment, as well as fast charging and swapping technologies.


Event Time: July 28, 2021. 12:30 p.m. – 06:30 p.m.
Register Here: https://indiaesa.info/events/8th-india-e-mobility-conclave-2021-imc-2021
Click to download the brochure

Authored By: Shraddha Kakade