Q. Why is energy storage and hydrogen important to you? Why did you decide to venture in this sector? What is the driving factor or inspiration for you to be in this sector
A. Wärtsilä Energy Storage & Optimisation (ES&O) is a leader in game-changing products and technologies to the global power industry. We're integrating end-to-end grid solutions that build a resilient, intelligent and flexible energy infrastructure. Wärtsilä has made significant advances in the energy storage market since the Greensmith Energy acquisition, with expertise across microgrid and renewable integration applications, as well as an expanded focus on real-time dynamic market bidding via its 2021 GEMS IntelliBidder technology. Their islanded projects are hallmarks of the path to 100% renewable energy. For example, the Graciosa Island project came online in late 2019. The hybrid system sees a diesel plant now work more like a back-up system and the use of fossil fuel for electricity consumption has been reduced from 100% to 35% with energy storage technology, saving 190 thousand litres of diesel fuel per month. In 2020, there were even 128 days where the island was entirely and reliably powered by renewable energy. Storage is a highly flexible asset that can fulfil multiple functions at the same time. For example, it's able to simultaneously balance the grid when renewable sources are in use while also supplying power to the grid, especially when paired with emerging sophisticated market-bidding software. Presently, Wärtsilä is investigating several future fuels, including green hydrogen, synthetic methane, methanol and ammonia, with a view to providing complete flexibility across engines and the fuel chain. Since internal combustion engines can be adapted to combust most fuels, dual-fuel or spark-ignited engines are already capable of combusting natural gas – fossil, biomass or synthetic – while diesel engines can run on liquid biofuels, biodiesel or e-diesel. Wärtsilä has extensive experience in converting engines to run on other fuels, including diesel to dual-fuel or spark-ignited. The real elevation in hydrogen has taken place during the last 3-5 years, as the idea has really gained popularity and new applications have emerged.
Q. What are the important reforms you need from govt and policy makers
A. Renewables are challenging thermal. The government has ambitious targets for renewables. On thermal, the plants that are in the pipeline, should expectedly come up till 2022. Coal usage will become less in India in times to come but it will remain as solar and wind cannot be available all the time. Coal will continue to be the baseload for some time to come. More focus is required on renewables, a clear policy on batteries for renewable energy with the exception for solar energy. Earlier, there were power shortages, but now that India has achieved near adequacy, there is a need to focus on quality of reliable power. Batteries can be used in the transmitter for efficient distribution in order to achieve grid stability. They can also be used in another scenario, where say, there is no way to absorb power. Hence, battery manufacturing will definitely play a crucial role going ahead. We are also in discussion with various States, utilities and regulators regarding the role that renewables can play in meeting future electricity needs and strategies to efficiently integrate renewables in the grid. The industry should holistically look at the net cost of the system and not just at the variable cost.
Q. How much important is R&D? your contribution in this
A. In order to power a sustainable future for the energy markets, we utilise digitalisation and the development of smart technologies to deliver new products and solutions. A substantial proportion of the investments we make in product and solution development is targeted at securing environmental compliance and providing short- and long-term benefits for our customers. As a result of this approach, Wärtsilä is well positioned to support customers in reducing emissions and decreasing the use of natural resources. Wärtsilä develops technologies that comply with ever more stringent sustainability targets. New technologies are under implementation to secure both current and future sustainability demands. Such trends include a shift towards the use of carbon neutral fuels, such as bio and synthetic fuels, and Wärtsilä has both the required know-how and the technologies and products to enable this transition. Optimising the quality of our new solutions and their time to market is carried out using increased levels of simulation, modularisation, virtual testing, and validation. The focus is on continuous improvement, thereby securing reliability and safety without compromising quality. Only after the solutions have successfully passed all the validation process steps and confirmation that the performance meets Wärtsilä's high standards, new products can be delivered to the market.

The Open Innovation approach is promoted via our increased presence in start-up activities globally. We regularly participate in a variety of start-up accelerators and we have invited partners to co-create, prototype, and validate new products and solutions in our new Smart Partner Campus. By working together with partners in Wärtsilä R&D centres, quick insights into the potential customer values can be identified. The Open Innovation approach brings together capabilities and resources from the ecosystem to accelerate the creation of industry-leading solutions.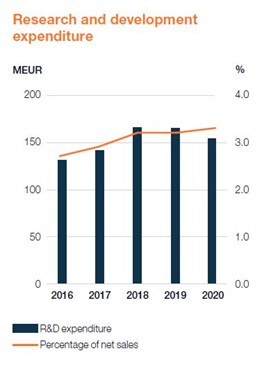 Q. What is the product line up from your organization, what are your company's future plans?
A. Wärtsilä leads the transition towards a 100% renewable energy future. We help our customers in decarbonisation by developing market-leading technologies. These cover future-fuel enabled balancing power plants, hybrid solutions, energy storage and optimisation technology, including the GEMS energy management platform. Wärtsilä Energy's lifecycle services are designed to increase efficiency, promote reliability and guarantee operational performance. Back in the mid-2000s we started to see the potential of renewables and developed our solutions towards that. We have been talking about the use of flexible gas-based engine power plants to help integrate renewables in the power system for the past 15 years, and now the engine power plants are an important element in providing flexibility and reliability to power systems with renewables. We have seen various power systems, in various markets for a long time can provide a lot of insights due to our vast experience. It's important for a company like ours to go to our customers with fact-based solutions. That's where things like the Wärtsilä Energy Transition Lab (https://www.wartsila.com/energy/transition-lab) or the Atlas of 100% Renewable Energy (https://www.wartsila.com/energy/towards-100-renewable-energy/atlas-of-100-percent-renewable-energy#/) come in to play.

For the Atlas of 100% Renewable Energy, Wärtsilä has modelled 145 countries and regions to find the optimal way to produce electricity from 100% renewable energy sources. The map illustrates how the power system of each of these regions would look like if they were to be optimally built from scratch, not considering the burden of existing power plants. Each region has unique solar and wind conditions which makes the optimal energy mix for each region unique. Wärtsilä supports integration of renewable energy through solutions that provide the required system flexibility, i.e. flexible engine-based power generation, energy storage and in the future, new technologies such as Power-to-X. Together with flexible balancing power plants, future fuels can meet the critical demand for long-term storage solutions that balance grids in an affordable and sustainable way. That is why Wärtsilä is investigating, researching future fuels and helping develop Power-to-X technology. Power-to-X is an umbrella term that covers different processes that turn electricity into heat, hydrogen, or renewable synthetic fuels, such as methane, diesel, gasoline and ammonia. It offers a significant opportunity to speed up the shift to a renewable energy future by ramping up synthetic fuel production, and rapidly reducing fossil fuel emissions in sectors ranging from the transportation, industry and energy sectors. In India, we are directly engaging with stakeholders, be it states or utilities, to educate and help them bring clarity to their own planning processes and decision-making. We want to help them in making the right decisions and prepare them for the future, and that is what we will continue to do.
Personal questions:
Q. The book you will recommend to read?
A. Fearless Organisation by Amy Edmondson- Creating Psychological Safety in the Workplace for Learning, Innovation, and Growth offers practical guidance for teams and organizations who are serious about success. This book explores culture of psychological safety and provides a blueprint for bringing it to life. Author explains the four essential elements for creating psychological safety. First, focus on performance. Second, train both individuals and teams. Third, incorporate visualization. Finally, normalize work-related vulnerability. More specifically, when people have psychological safety at work, they feel comfortable sharing concerns and mistakes without fear of embarrassment or retribution. They are confident that they can speak up and won't be humiliated, ignored or blamed. They know they can ask questions when they are unsure of something. They tend to trust and respect their colleagues.
Q. Who is your role model?
A. Dalai Lama. He advocates the cultivation of warm-heartedness and human values such as compassion, forgiveness, tolerance, contentment and self-discipline. He says that as human beings we are all the same. Leading with compassion builds resilience, fosters a team-spirit and boosts engagement in teams. It also removes barriers, creates confidence in place of fear and cultivates a work environment where employees feel a greater sense of commitment to their organisation.
Q. What destresses you?
`A. Meditation and personal time (inner space). Meditation can produce a deep state of relaxation and a tranquil mind. During meditation, you focus your attention inwards and eliminate the stream of jumbled thoughts that may be crowding your mind and causing stress. This process may result in enhanced physical and emotional well-being. Meditation can give you a sense of calm, peace and balance that can benefit both your emotional well-being and your overall health. I am a firm believer of this practice 4-5 times per week and allocate 30-45 minutes time either in the early mornings or evenings.
Q. How many trees/ saplings can you plant next year(We are partners with Earth day Network, would you like to associate with them?)
A. We have our manufacturing facility in Khopoli where planting of trees by visitors is a followed practice. Through our CSR activities and NGOs we are associated with, we promote the importance of planting trees and benefits to the environment. The endeavour is to connect with NGOs in related field and plant several hundred saplings in the coming year. Q. Sport/ Movie you like? A. I have liked and enjoyed Cricket as a sport from my younger days. It has a combination of individual and team responsibilities and a good balance when executed results in success. In fact, there's a lot of crossover between the desired leadership qualities of a cricket captain and a Leader or Manager in any organisation. Adaptability, people management and resilience are some of the characteristics which can be correlated from cricket to the organisation dynamics.