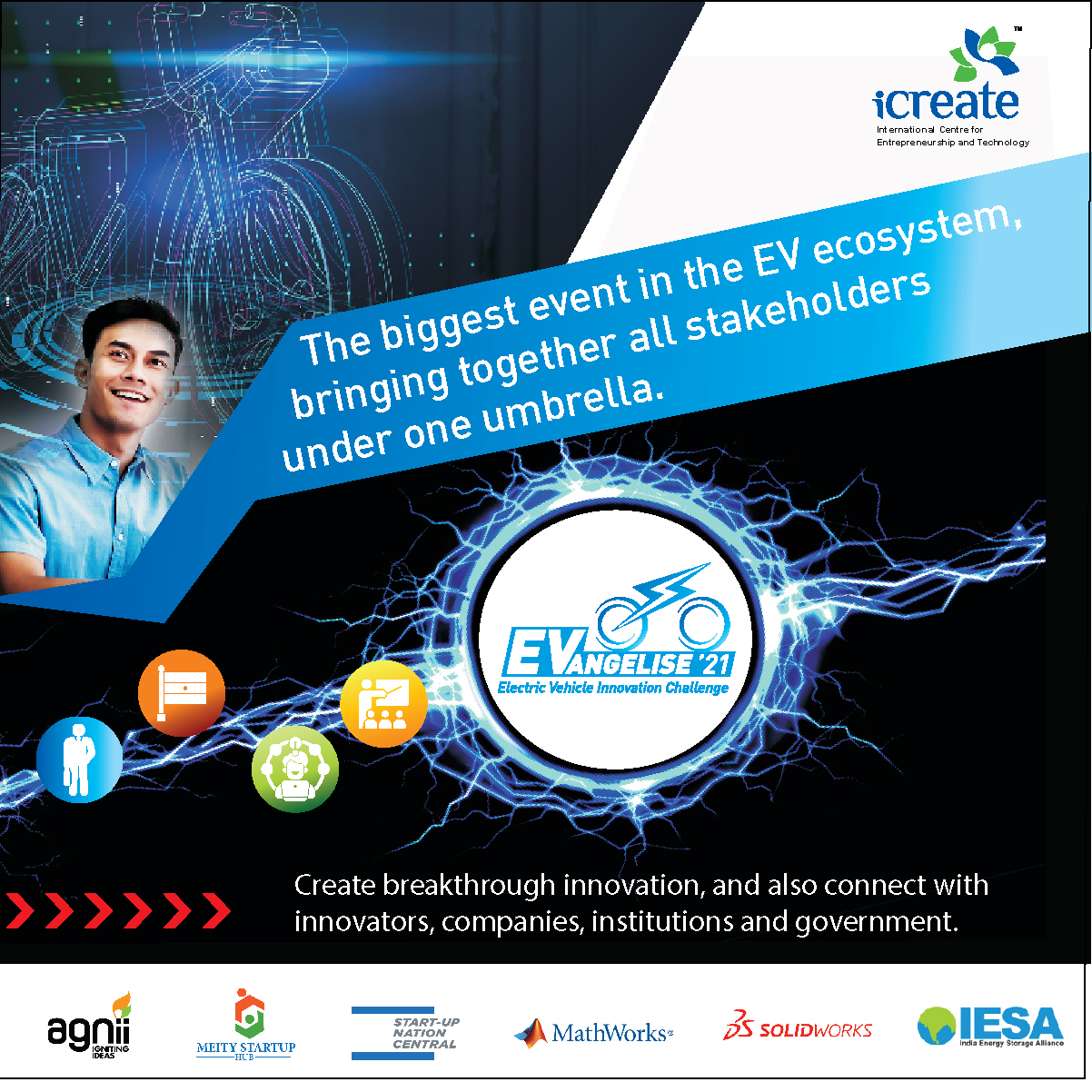 iCreate is bringing to you an EVangelise, a one-of-its-kind Electric Vehicle Innovation Challenge. India Energy Storage Alliance (IESA) is the proud knowledge consultant of the challenge. EVangelise will bring together innovators, industry, institutions, and the government. It consists of an annual challenge, with the inaugural edition kicked off on 15th July 2021. What makes it unique is its 7-month long structure that comprises multiple stages and offers deep learning and exciting rewards at every stage. This will help in harnessing some of the brightest minds in the world and use the power of innovation in addressing key problem statements of the EV industry.
EVangelise has been designed to cover the four sub-component levels of an electric vehicle:
Electric Powertrain (motor + controller)
Battery, BMS and Hybrid Energy Storage Systems
Regenerative Braking Systems
Intelligent Vehicle Management Systems.
A total of INR 88.5 lakh will be given as assured cash prizes to winners across the four categories and three stages. The participants will be able to simultaneously submit their proposals across three different stages.:
Idea Stage: Participants will be required to submit only the description of their planned innovation meant to increase the efficiency of an electric 2/3 wheeler.
Design Stage: Shortlisted teams from the Idea Stage, and qualified direct applicants, will be eligible for this stage where they will be required to submit specific calculations and simulations on a dedicated software. Participants will be put through a 2-day bootcamp, to set expectations, briefed on tech specs, and given tips on an efficient way forward.
Build Stage: Selected teams from the Design Stage, and qualified direct applicants, will be eligible. All participants will be required to deliver a tangible prototype/ POC, demonstrating real-world engineering and implementation skills. This stage will see masterclasses and tech mentoring by iCreate and industry experts. Participants will have the option to stay at the iCreate campus and use its world class infrastructure and facilities. Prototypes will undergo testing and validation at iCreate labs. 18 shortlisted teams will move to EVangelise Innovation Showcase. Top 3 winners will get INR 1 Mn, INR 0.75 Mn and INR 0.5 Mn cash prizes along with assured incubation support of INR 5 Mn each, market connects and industry mentorship. The other 15 teams will get INR Rs 0.3 Mn cash prize along with support from iCreate in terms of expert mentoring, rapid prototyping facilities, and opportunity to get a suitable grant.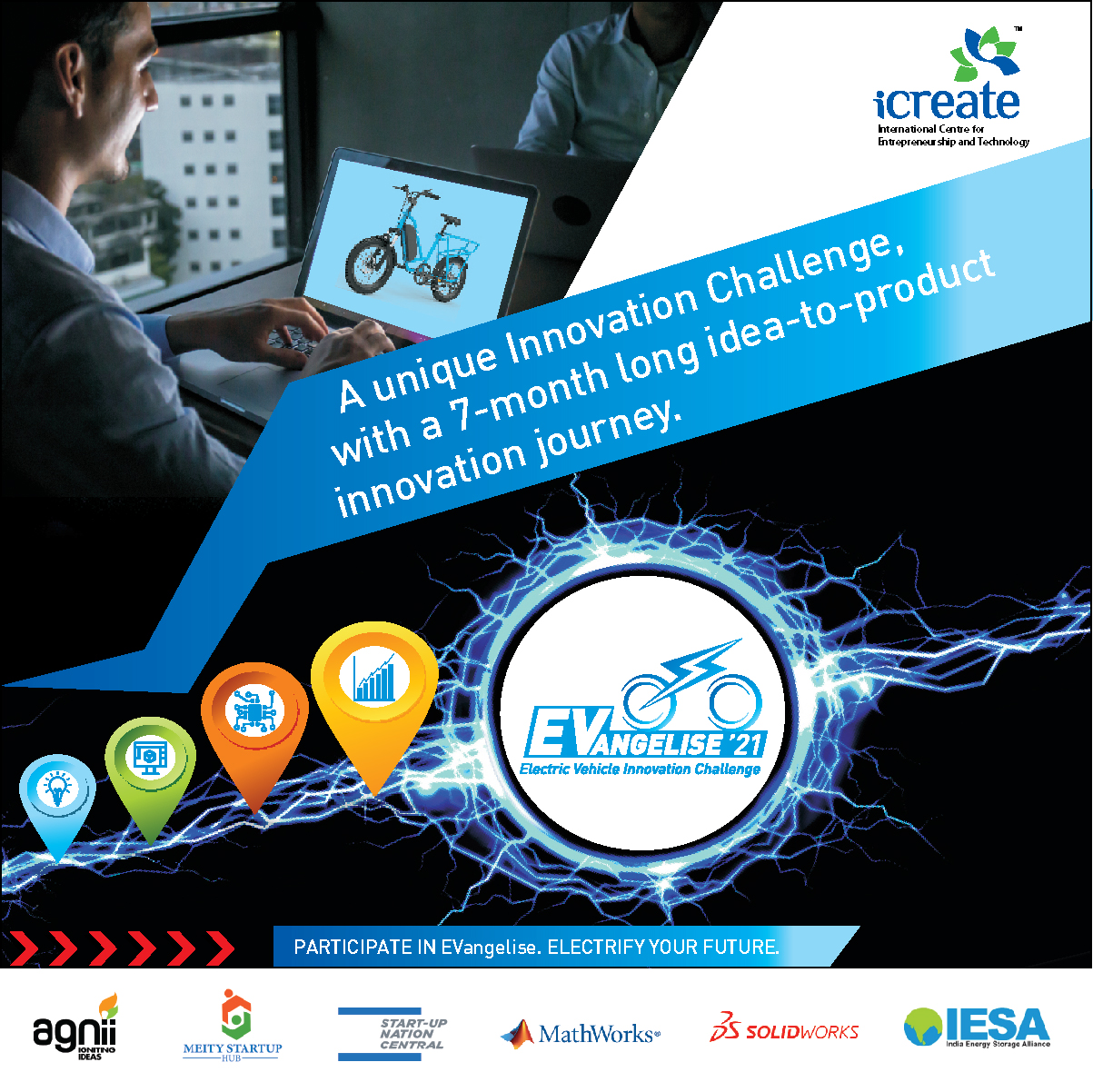 Innovation Showcase:A grand finale in Kevadia, against the backdrop of the Statue of Unity. This Innovation Showcase is planned in February 2022 and will consist of 2 events:
ELECTRIFY YOUR FUTURE PITCH where finalists will present their innovations to a jury comprising top EV industry experts and VCs
EV EXPO: Featuring innovations from EV companies, electric sub-component manufacturers, and the 18 EVangelise finalists
The grand finale will comprise a Statue of Unity EV Race, an open, international race at Kevadia, the location of the world's tallest statue built to honor Sardar Vallabhbhai Patel. It will feature entries from companies manufacturing electric 2&3 wheelers, under three categories - Unregistered vehicles of <250W, Regular vehicles of 250W-1KW, and Performance vehicles >1KW.
EVangelise will be the biggest event in the EV ecosystem, bringing together all stakeholders under one umbrella - innovators, industry, institutions, and government bodies with the common mission of helping India transform itself into a world leader in 2&3 wheeler EVs over a 3-to-5-year time span. The goal is to create a technology package that can be used by mass manufacturers for accelerating EV adoption in India, and to gain a dominant market position in the global market.
To sustain the engagement of innovators in the EV industry and expand the network, iCreate plans to conduct EVangelise annually. As part of this, it will ensure that industry starters are handheld and mentored to continuously innovate in the rapidly evolving EV segment and navigate challenges through well-designed solutions in the changing industry landscape.
Registration Link: icreate.acceleratorapp.co/application/new?program=evangelise%20-%20iesa
For more details, visit us at https://www.evangelise.org.in