India eMobility Conclave 2020 (IMC)
IESA Events
Le Méridien New Delhi, Windsor Place, New Delhi, Delhi, India
CLOSED
22nd Feb 2020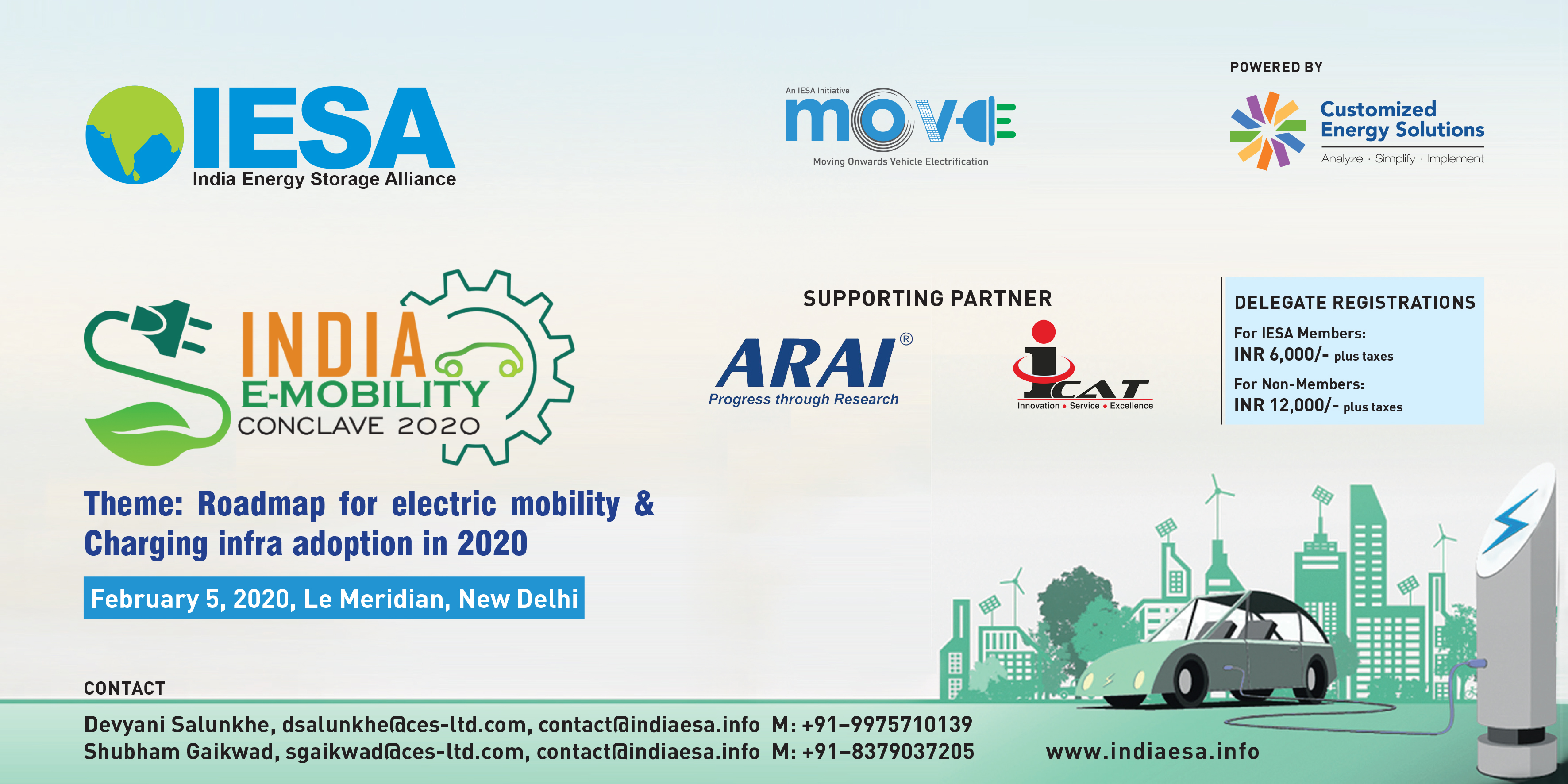 About Event
India Energy Storage Alliance (IESA) is organizing its 6th Electric Mobility event "India eMobility Conclave 2020 (IMC 2020)" at Delhi focused on the roadmap and outlook for emobility in India. This is a unique platform to interact, network and learn about the market landscape, government policies, new products, EV & charging infra deployments including fast charging and swapping technologies.
India is poised to become one of the largest electric mobility markets in the world in the coming decade, with the government's push for the segment in order to curb pollution and reduce reliance on import-dependent fossil fuels. Although, we are still in the infancy of adoption of EVs, with the changes in the technology landscape as well as the clear vision set by the Indian government. IESA estimates that over 70-100 million EV's could be sold in India till 2030. This transition of the transportation sector from petroleum-based internal combustion engines (ICEs) to EVs, would create a market of 750 GWh of advanced energy storage solutions over the next decade. The Government of India has laid down its plans and is catalyzing the Indian EV market with the active support from various agencies such as NITI Aayog, DHI, MoP, MoRTH, MS&T, MoCIP, EESL, and BEE for making this dream a reality.
With the talk of EVs gaining momentum in the last few years, both Indian as well as international investors, have shown interest in capacity building for the segment thus presenting an opportunity for Indian manufacturers to enter the segment and undertake research & development in the category. Government initiatives like recently launched FAME -2 (Faster Adoption and Manufacturing of Electric Vehicles) incentives with a budget of Rs. 10,000 Cr will encourage the adoption of EV in India.
Agenda
Session 1- Electric Mobility Manufacturing Ecosystem: Opportunities and way forward
Session 2- National EV R&D Mission 
Session 3- State Policies to support Electric Mobility
Session 4- EV Infrastructure & Innovative Business Models
Session 5- EV 360 (Power Train, Power electronics, EV Components, Battery)
Session 6- Beyond road transport
Confirmed Speakers:
Shri Anil Srivastava, Principal Advisor and Mission Director, Niti Aayog
Sajid Mubashir, Scientist G, Department of Science and Technology (DST)
CK. Goyal, VP Road Transport, Delhi Integrated Multi-modal Transport System (DIMTS)
Dr Madhusudan Joshi, DGM, International Centre For Automotive Technology (ICAT)
Anand Deshpande, Sr. Deputy Director, Automotive Research Association of India (ARAI)
Rahul Walawalkar, President, IESA, Chair - GESA
Anant Nahata, Managing Director, Exicom
Naga Satyam N, Executive Director, Olectra Greentech Limited.
Anshul Gupta, Director, Okaya Power Group.
Nishant Arya, Executive Director, JBM Group
Awadhesh Jha, Vice President – Charge & Drive, and Sustainability, Fortum Charge & Drive India Pvt. Ltd.
Anmol Jaggi, Co-founder Blu-Smart Electric Mobility
Ajay Goel, COO, Sun Mobility
Nishant Saini, Managing Director, EEE-taxi.
Sandith Thandasherry, Founder & CEO NavALT Solar and Electric Boats
Nakul Kukar, CEO, Cell Propulsion
Satyajit Phadke, Manager, R&D, Customized Energy Solutions
Puneet Jain, Chief Operating Officer, Grinntech Motors.
Rahul Bagdia, Managing Director, pManifold
Dr. B.K. Panigrahi, Professor, IIT Delhi
Debi Prasad Dash, Executive Director, IESA
Click to download the brochure
For registrations, contact; Devyani Salunkhe, dsalunkhe@ces-ltd.com, + 91 – 9975710139
Event Timings
February 22, 2020, 9:00 am - February 22, 2020, 6:00 pm