Conference on Renewable Energy -Challenges and Way Forward
Partner Events
New Delhi, Delhi, India
7th Feb 2019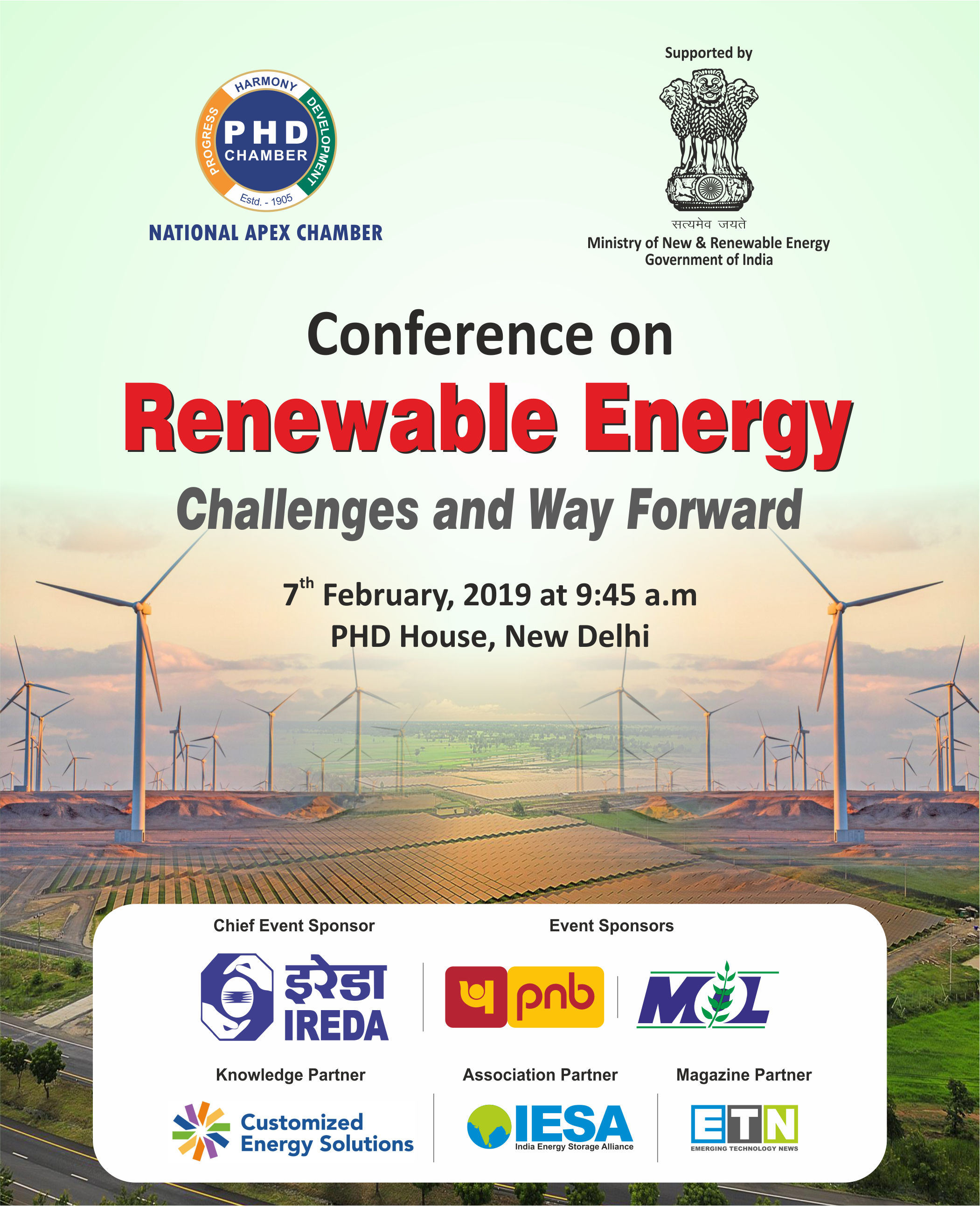 About Event
India is set to become one of the largest renewable energy hubs globally in the coming years. The country is progressively becoming a most favored destination for investment in renewable by targeting the installation of 175GW of renewable energy capacity. This will be the foundation of the new economy of the new century. The renewable energy sector in India is now the leader in creating a new revolution in solar energy with a target of 100GW by 2022. This emphasizes India's commitment to the Paris Agreement and its strong will to push for solar energy generation in countries with huge potential.
Solar energy serves as a clean and affordable form of the renewable energy sector that would help India cut down its carbon emissions as well as reduce its dependency on the import of crude oil (at least to some extent). Although India has committed to going solar, challenges still remain. Infrastructure development, technological know-how, attracting foreign investment, procuring raw materials for solar panels and a lack of access to existing storage technologies remain huge obstacles. Despite these concerns, India has taken an initiative to make solar & wind energy the focus of clean energy.
The government schemes and policies have contributed in transitioning from fossil fuels to clean and green energy in India, and with solar tariffs falling to a record low, new government schemes to encourage rooftop installation has put India on the map in the renewable energy sector. Being a part of this renewable energy sector has the potential to create jobs, reduce poverty and propel India into the ways of the future. On this backdrop, PHD Chamber is organizing a Conference on "Renewable Energy-Challenges and Way Forward" on 7th February 2019 at 9:45 a.m. at PHD House, New Delhi.
Conference key Objectives are:-
§  Promote the exchange of ideas and to help participants stay updated on industry developments, technology, market and policy trends.
§  Bring together Government decision makers, industry representatives, investors and customers on one platform to address critical questions about the growth and widespread adoption of renewable energy.
§  Discussion on key issues related to renewable energy segments including solar (PV and thermal), Wind, Biomass and Hydro.
§  Provide a unique business platform for investor and buyers across renewable energy industry segments.
 
A large number of delegates from Industry, senior officials of Central and State Governments, Senior Industrialists, Policy Makers, Thought Leaders, Financial Institutions,  etc. are expected to attend the conference.
Event Timings
February 7, 2019, 1:45 am - February 7, 2019, 5:00 pm