Tech Tour
---
Category :
IESA Events
---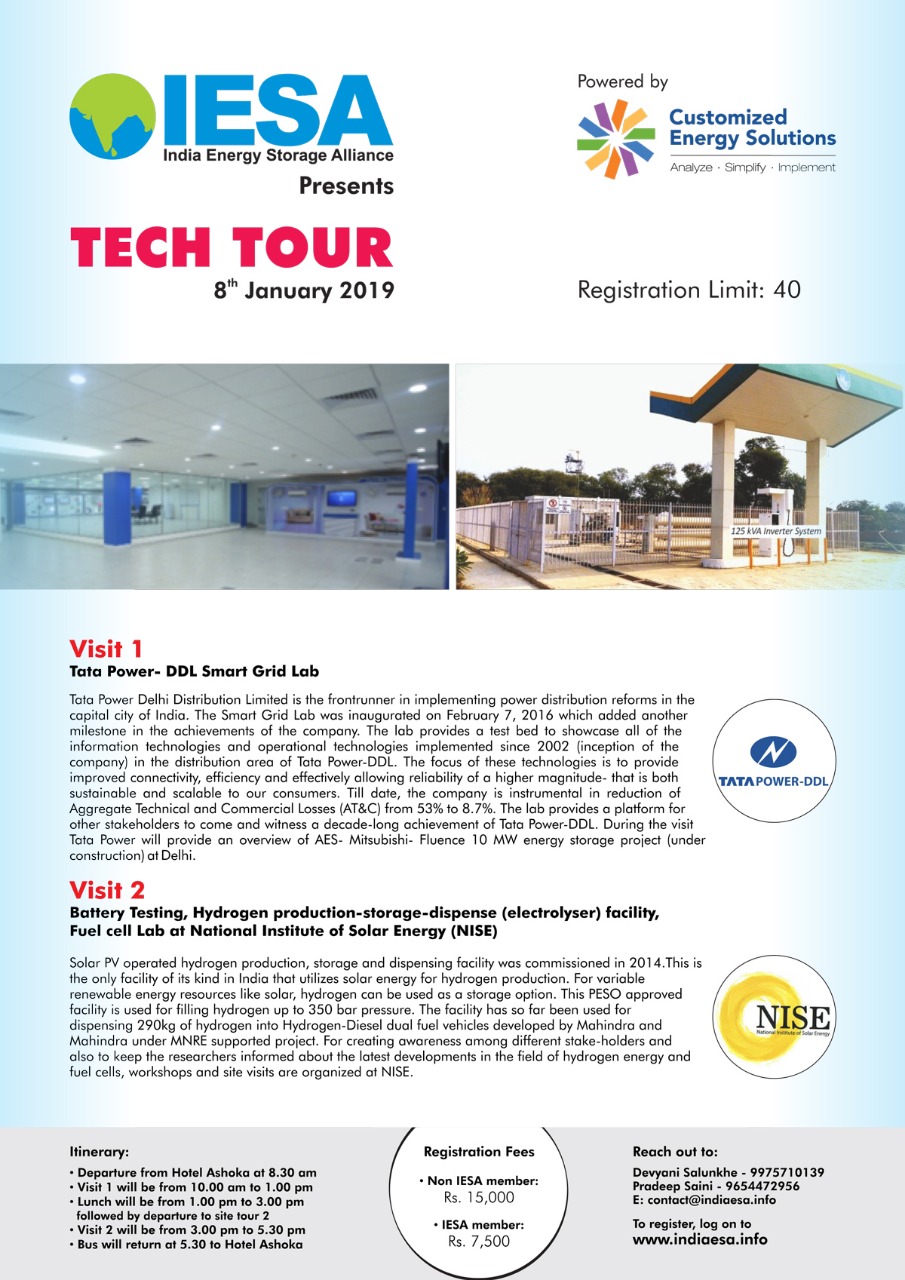 Date- 8th January 2019
Registration Limit: 40 seats 

India Energy Storage Alliance (IESA) is organizing the Tech tour one day ahead of Energy Storage India 2019 event (9-11 January 2019) to showcase various projects, facility, and labs. It will be a mix of international and Indian delegates for the tour.

Visit 1- Tata Power- DDL Smart Grid Lab
Tata Power Delhi Distribution Limited is the frontrunner in implementing power distribution reforms in the capital city of India. The Smart Grid Lab was inaugurated on February 7, 2016, which added another milestone in the achievements of the company. The lab provides a test bed to showcase all of the information technologies and operational technologies implemented since 2002 (inception of the company) in the distribution area of Tata Power-DDL. The focus of these technologies is to provide improved connectivity, efficiency and effectively allowing reliability of a higher magnitude- that is both sustainable and scalable to our consumers. Till date, the company is instrumental in the reduction of Aggregate Technical and Commercial Losses (AT&C) from 53% to 8.7%. The lab provides a platform for other stakeholders to come and witness a decade-long achievement of Tata Power-DDL. During the visit Tata Power will provide an overview of AES- Mitsubishi- Fluence 10 MW energy storage project (under construction) at Delhi.
Visit 2- National Institute of Solar Energy
Solar PV operated hydrogen production, storage, and the dispensing facility was commissioned in 2014. This is the only facility of its kind in India that utilizes solar energy for hydrogen production. For variable renewable energy resources like solar, hydrogen can be used as a storage option. This PESO approved facility is used for filling hydrogen up to 350 bar pressure. The facility has so far been used for dispensing 290kg of hydrogen into Hydrogen-Diesel dual fuel vehicles developed by Mahindra and Mahindra under MNRE supported project. For creating awareness among different stakeholders and also to keep the researchers informed about the latest developments in the field of hydrogen energy and fuel cells, workshops and site visits are organized at NISE.

For any queries, reach Ms. Devyani Salunkhe: Mob-9975710139 Email: contact@indiaesa.info




Event Timing
7 January 2019
TO
8 January 2019
1:00 AM
TO
5:00 PM
Ticket Booking From
2 November 2018 TO 8 January 2019
Thank You For Purchasing A Ticket
| | | |
| --- | --- | --- |
| Title | Price | Available |
| Non IESA Member | USD 271.40 | Unlimited Seats |
| IESA Member | USD 135.70 | Unlimited Seats |